Last year we painted a mural with the indigenous leaders at COP26 in Glasgow, Scotland. It was an image of sovereignty and reverence standing 40 feet tall, as testament to voices at frontline of the climate crisis. This year we will be back at COP27, hosting different events at our space in the Civil Society Climate Justice Hub and painting a mural inside the UNFCCC Children and Youth Pavillion (Blue Zone)
Through our At The Root campaign, our work is to elevate and amplify the voices of communities who are already witnessing the impacts of the climate crisis. To look at women's voices as narrators in this movement and create powerful and embodied representations that highlight the intersections between gender, labour and the environment.
At COP27, we will use the 'Fearless Futures' methodology to facilitate ways of reimagining systems of sustenance, interconnectedness, community and consumption with participants at COP27. The outcomes of the discussions from the workshops will be featured in the public mural inside the climate talks. The mural will tell community stories from the Global South, deriving from traditional ecological knowledge systems, using ritual, folklore and mythology to remember, honour, nourish and create visions for futures that we wish to inhabit.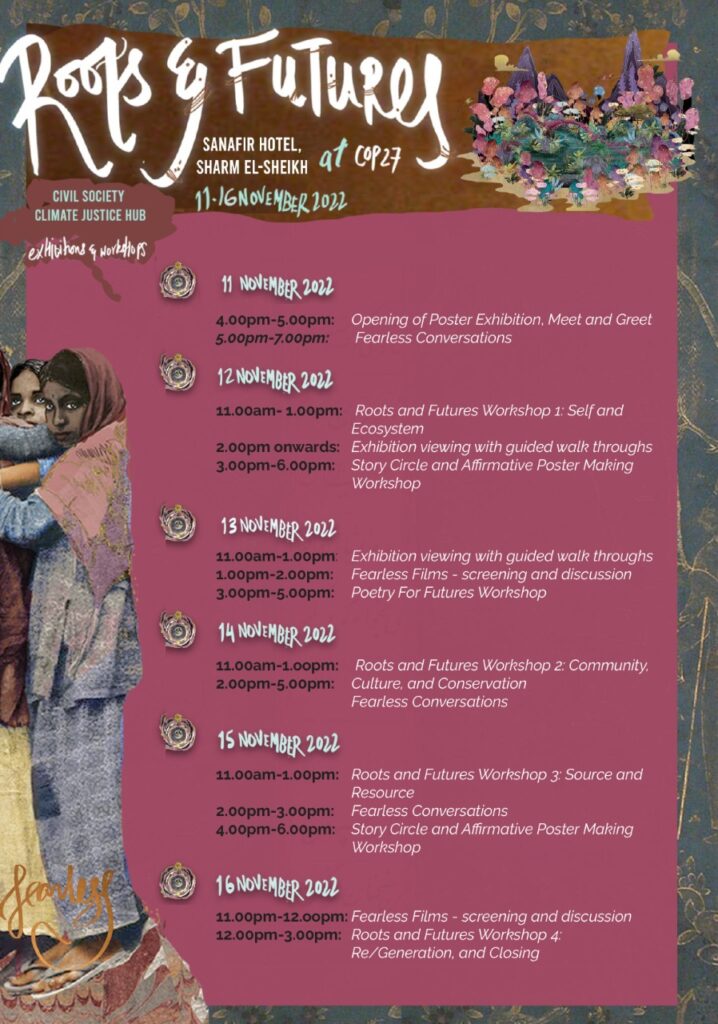 To register for the workshops please fill up this form at the soonest –
https://docs.google.com/forms/d/e/1FAIpQLSe20VDUXlDo3jgMaYqpa47kX_AOYnqhfF3kDbunQ8mT1H6q2g/viewform
We can only accommodate a limited a limited number of participants so we request you to sign up for these workshops in advance. You can attend one or all four depending on your availability and interest.
1. Workshop 1: Self and Ecosystem, 12th November, 2022, 11.00am-1.00pm Our Creation Stories and how they inform how we see our place in the world as individuals.
2. Workshop 2: Community, Culture, and Conservation, 14th November, 2022, 11.00am-1.00pm Bringing land use, governance practices, Indigenous Peoples Knowledge into our social justice movements.
3. Workshop 3: Source and Resource, 15th November, 2022, 11.00am-1.00pm We will see the abundance of natural resources around us not only as resources to be taken from, but something to be replenished, so it can recover itself.
4. Workshop 4: Re/Generation, 16th November, 2022, 12.00noon-3.00pmWe recognise the resources we already have to affect change and think of the resources we need to re/claim. Build a Fearless Futures Declaration together

Workshop Venue: Civil Society Climate Justice Hub, Sanafir Hotel, Sharm el-Sheikh
Dates: 12th, 14th, 15th and 16th of November, 2022
Timings: 11.00am – 1.00pm (Workshop 1, 2, 3) and 12.00 pm – 3.00pm (Workshop 4)
Preview to an incredible exhibition of climate justice artwork by our artist network across the Global South in the Civil Society Climate Justice Hub: