The Fearless Methodology is a 6 step process developed by artist Shilo Shiv Suleman over the period of 2012 -2015. Born from interactive workshops she facilitated with different communities – from the Koliwada fisherwomen in Bombay to the transgender community in Rawalpindi – the methodology brought together symbol, ritual and storytelling in a powerful and intimate act of feminist solidarity and care.
It was a time of wide-eyed learning and potent affirmation.
The methodology draws from personal history, traditional storytelling techniques and universal myths and archetypes. Working through an immersive process of self-representation and collective imagination, it opens a pathway for us to reclaim public space and affirm the safe and sacred futures we would like to create.
Space
We create, reclaim and occupy space. Inside us and outside us. The ancients knew it well – spaces (like bodies) tell stories. They hold the histories of minerals and movements.
In the Fearless work, we make space with intimate attention. Along with our community partners, we identify spaces that are significant to them and we recognise that we make (and take) space in three different ways. The emotional space inside of us, the social spaces we conduct our workshops in, and finally the public spaces we occupy for protest and pleasure.
We turn to the old ways-
We witness space.
We offer light and colour and incense into forgotten corners.
We fill space with our bodies, stories and paintbrushes.
In this picture, we painted ground, not wall with an indigenous community- the Tupinambá in Bahia, Brazil. The land is an indigenous burial ground that was taken over by Portuguese coloniser Pedro Álvares Cabral in a brutal massacre 450 years ago. A church was built on top of the land. As we painted Tupinambá symbols back into existence- we reclaimed history.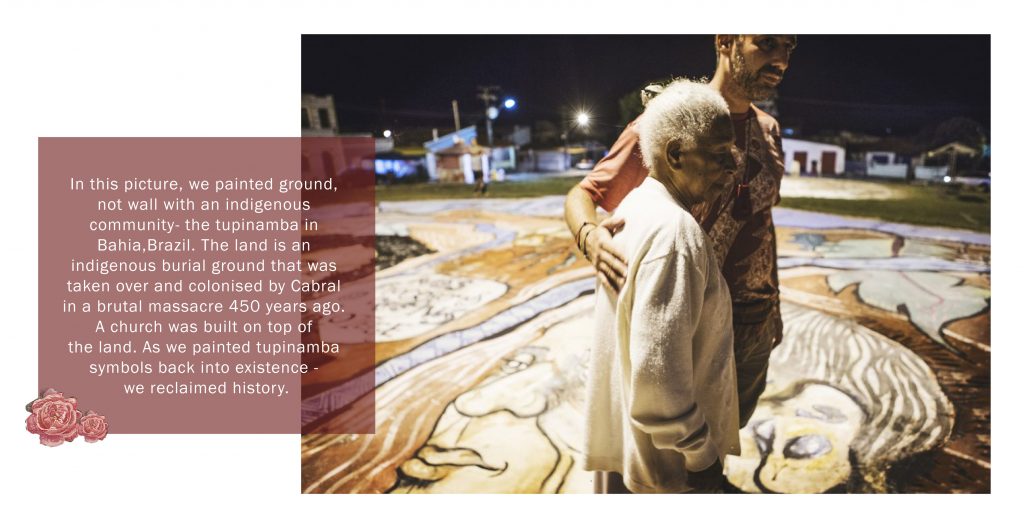 Story
We live in data driven times where so many of our histories are written as a codex of 'practical' information. But our bodies are soaking in invisible emotional histories too.
Histories that were never asked:
How are you feeling?
Where does it hurt?
Our feelings are made to seem like they don't deserve attention because they are too soft, too invisible, too transient to hold true until they become too dense, too heavy, soaked in water and released as floods.
In the Fearless method, we are made of these stories, not atoms. All the stories we tell are grounded in lived experiences of the communities we engage with.
Every time we tell our (own) stories, we give ourselves the chance to change our narrative, to relook at the characters and villains, and to (re)write our own endings. We represent no one but ourselves and yet, as we tell (each other) our stories, we begin to speak to each other's stories. Storytelling makes us visible to each other, as not just reportage but alchemy.
(all the stories I tell are my own)
Here, a group of transgender women in Bogor, Indonesia tell their own stories as they brush their hair. The stories they held inside them chose an identity other than the body into which they were born. We listen to these stories (with attention undivided)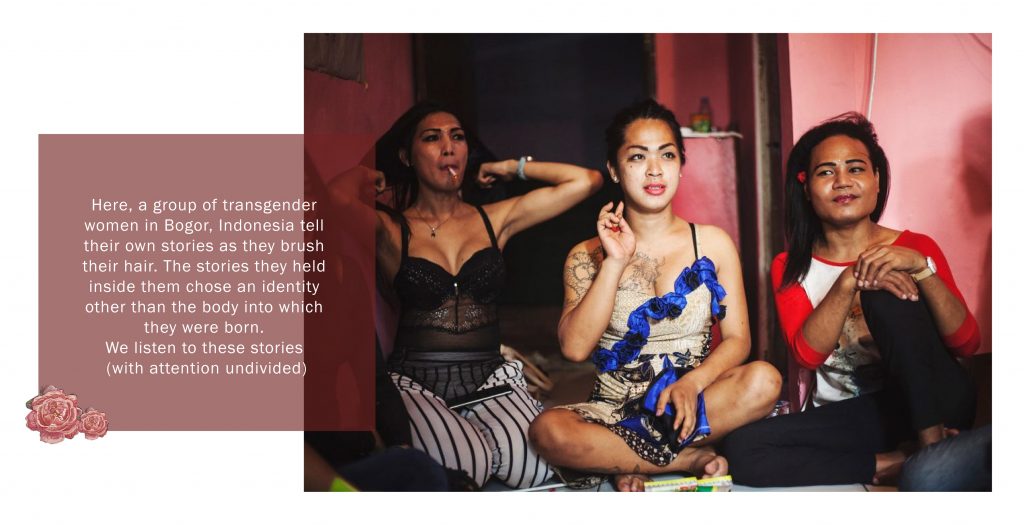 Symbol
A locket dangling around your neck. Grains of rice offered to a formless god. An open palm, the colour red, a flower that only grows in dirt. Dawn, dusk, fire, full moon, open cascading hair.
In a visual and ever enticing universe, symbols surround us and are the way we connect our internal world to the external world.
In the fearless methodology we see how symbols represent our healing, emergent power and paths to the future. We look for signs. And these are found during our workshops, collectively and collaboratively with the communities we're working with.
Here, in our work in Beirut we explored the idea of packing and unpacking as a symbolic reference to leaving and making homes. As each of us unpacked a trunk full of each other's things, we found, what often makes us feel at home is someone saying the words "a thousand times welcome," a familiar song, a family jewel, oranges that are tiny and tangible, mother tongues and your grandmother's pomegranate trees.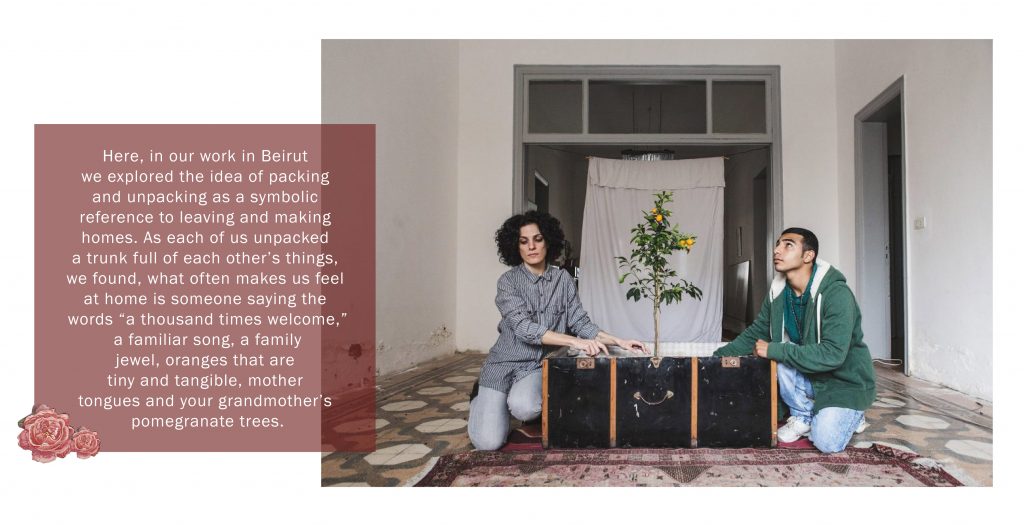 Ritual
Rituals set intention into motion. Rituals are the way we remember to use the body as grace and a tool of reverence. From the combing of our hair, to the offering of flowers into space. Rituals are performative acts that allow us to go deep into an emotional space and speak from (personal) truth.
No matter what our belief systems, there is something about placing our forehead to the ground that allows us to enter into our own depths. Our most tender emotions, even our rage, deserve to wear ceremonial attire. black. red. white. long. veiled. bare. When our shadow selves come dressed in grace, sipping sacred water- every emotion that enters us has the capacity to shapeshift into praise.
In Fearless workshops, we use rituals as our primary storytelling tool. Our rituals are handcrafted, and work through processes of catharsis (let it all out) and transmutation (offer it up).
In this ritual of Rage in Tunis, each participant made a fire, and answered into it-
What is the source of your rage?
As the fires turned softer they answered: What makes it go tender?
One by one each woman glimmered fire as they spoke, pulsed only with darkness.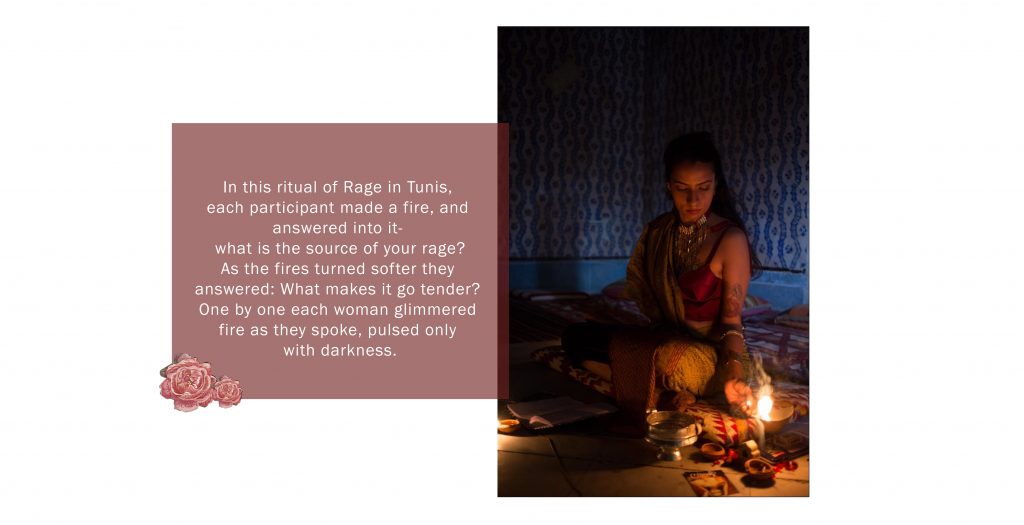 Gather
The fearless method trusts that everything we need is already available, that everything is happening as it should be- all you need to do is gather (together).
The fifth step of our process is to gather. We gather together photos of the community we engage with, we gather the voices and stories we heard in our ritual, we gather colours from the street, native plants that we press into the walls as motifs, we gather opinions of strangers passing (even the mean street critique). We gather our bodies together, fearlessly, sometimes in places we have little or no access to, places we've never been.
Held by the community in Chyasal, Nepal- we gathered together in red and gold, precious, childlike- young and old.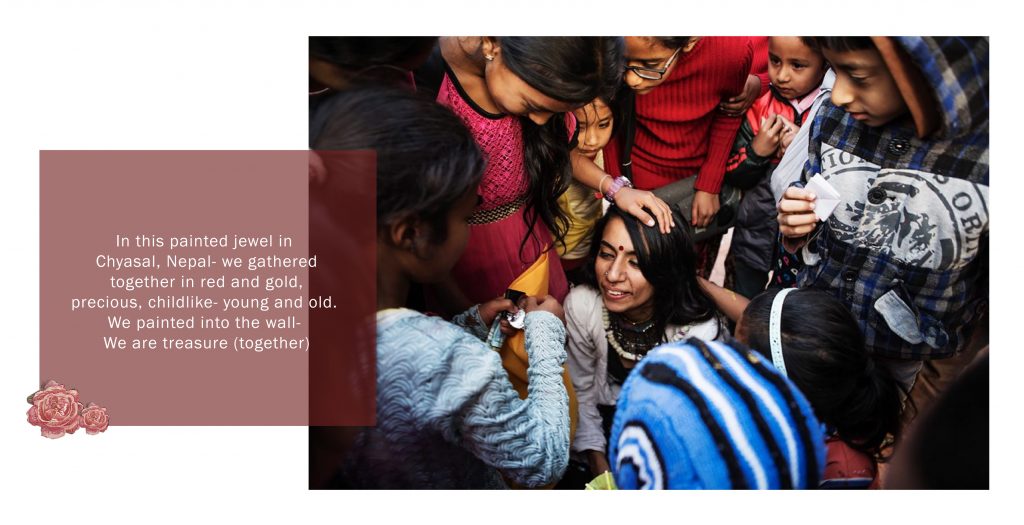 Affirm
In the seven years since our inception, we've painted numerous affirmations on streets around the world, some in words and some in symbols; some unsaid or unwritten, and some secretly tucked into the hair of a person that we're painting—but always an affirmation of moving from fear to love. Our banners and tongues aren't laden with slogans: "Stop War", "Save the Tigers", "Stop violence against women." Our words are invocations that build the imagined city we want to inhabit.
A black body wearing nothing in protest in Johannesburg says "I wear my body without shame."