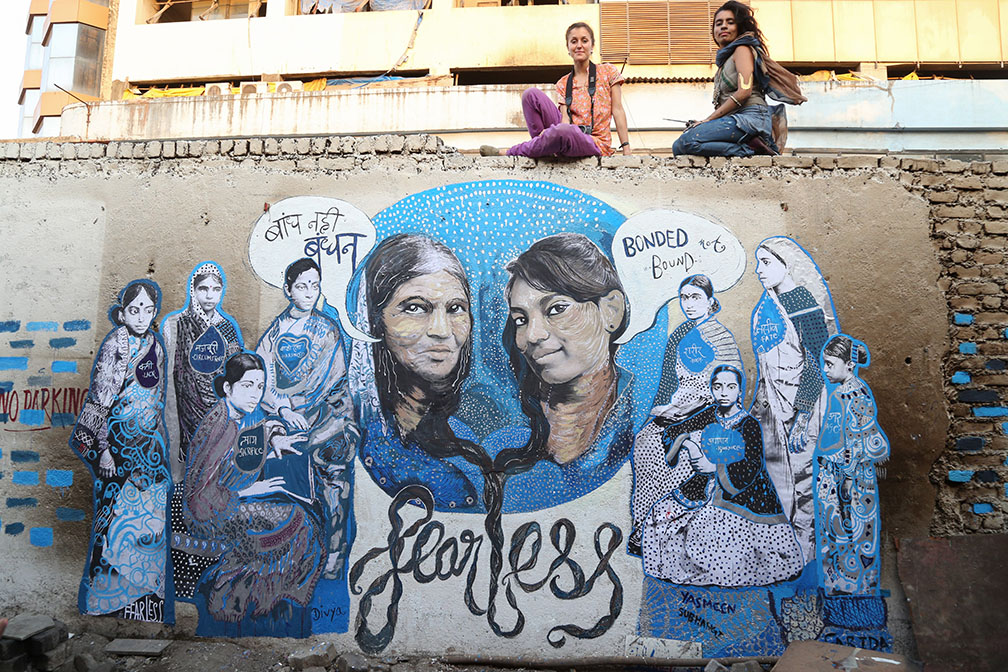 Flying over Bombay, one of the first sights to meet the eye is a landscape of blue tarpaulin woven throughout the city streets, between and around towering skyscrapers, and dotted throughout older parts of the city. Tarpaulin is cheap and commonly available and is often used in Bombay to demarcate spaces, sometimes protectively- from rain or sun- other times, simply as a way of creating a temporary sense of separation. Dharavi is Asia's largest slum and tarpaulin is used in abundance here. With more than one million people sharing little over 500 acres, how to demarcate space and define boundaries is an imminent everyday concern.
In Dharavi, Fearless Collective used tarpaulin as a metaphor for boundaries and how we create boundaries. Physically we have these blue sheets separating us, but how can we create boundaries in a space where there is no space: often eight people share an 8×8 plot with a kitchen and a bathroom inside.

In a workshop with a group of intergenerational local women, we started to understand what their personal spaces looked like, by asking each woman to describe the space she lived in. After understanding the kind of spaces that they resided in we started to ask them about how living in such close quarters made them feel. To our surprise many said they really enjoy living with so many people; when they were alone they would find themselves scared, because it's a community, it's your family, it's actually, in a place like this in particular, what makes you the happiest. Of course there are moments of awkwardness and tension, but at the same time there's an overwhelming sense of community, which is really essential to this place.
Next, in a ritual intended to explore how we create boundaries for ourselves within the spaces in which we live, we used blue duct tape, representing blue tarpaulin, to define our own boundaries. We know the boundaries of our homes, but what do emotional boundaries look like? What do sexual boundaries look like? One by one, each woman used the tape to draw her own box around herself, defining her borders and speaking about the boundaries she needed to feel comfortable. Many times women spoke of the need for space in a more metaphorical sense, rather than in a physical space- the space to think, to dream, to study, to feel safe, to live- and of bonds they did not want- to be bound by rules imposed on them, by ignorance or poverty.
They affirmed that some bonds are necessary. While, women face restrictive bonds, often hearing "don't go there!" or "don't do this!" having certain things imposed on them against their will binding them, there is a different kind of bond, like that of love, in which there's freedom, no tension, no doubt or suspicion. The question is do we stay in a certain bond or not? The image emerged of two women braiding each other's hair: the bonds we have should be made by choice and if we don't want a certain bond, then we'll unravel it, like a braid.
This community, this sense of togetherness is beautiful–it's a sisterhood, a community of women that support each other and care about each other, but at the same time, we should not be bound by it. And so, our lives become about keeping that bond, but slowly unravelling the bounds around ourselves.
Having understood this we then collectively came up with the affirmation: Bonded not Bound
Special thanks to SNEHA, Dharavi Biennale, Anjli Vyas, Aruna Chandrasekhar, Aakanksha Nanda, Nayreen Daruwalla, David Osrin, Dipesh Thakker and love to all the cityboys and girls of Dharavi, the community of Dharavi that gave us endless cups of chai and provided everything from charging points, food, and rides around town.