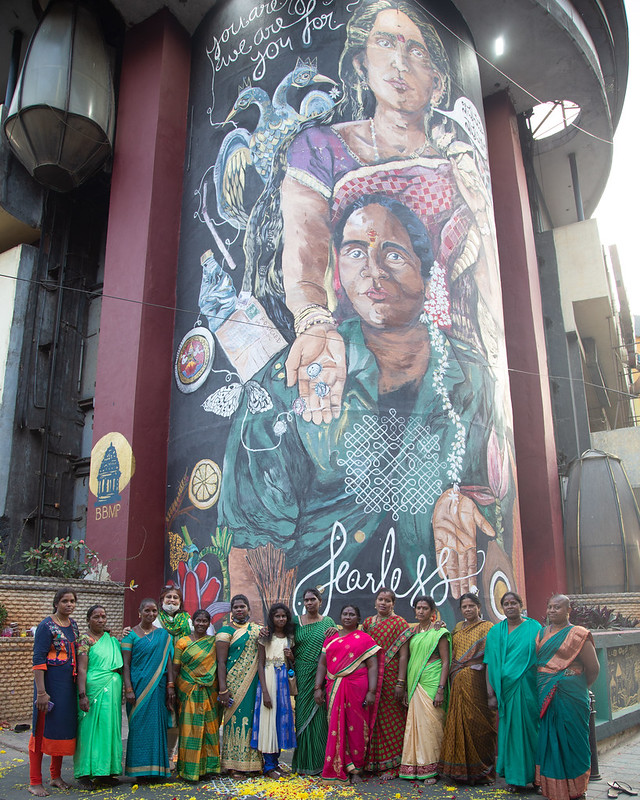 Early in the morning, after cleaning the ground, at the threshold of the entrance to their homes, women lay kollam patterns on the earth with rice and lime. These intricate geometries are an everyday reminder of beauty inviting abundance and prosperity. But the purpose of kollam is more than decoration: traditionally, laying rice and lime at the entrance of the home was an offering- to feed insects and mites, so they would not need to enter the house. Kollam- offering, daily act of regeneration, reminder of the relationships and cycles that sustain- life.
Women who work in Bangalore's waste management sector chose kollam as the symbol to celebrate the work they do everyday to regenerate the city- urban alchemists, they tend to our streets, giving new life to things most people consider wasted. And yet, they are rarely treated with dignity, nor recognized for the absolutely essential work they do. 
In Bangalore, Fearless Collective joined Hasiru Dala and women who work in both informal and formal waste management to create a public monument to women waste workers.
Encircled in kollam, they shared stories of their emotional and ecological realities- how they experience ecosystems and their place within them- and traced the intersections between Essential Life, Labour, and Environments | Disposable Plastics and Disposable Incomes | Dignity and Labour | Consumption and Waste | Public Space, Self Representation, Narrative, and Power
As their stories unfolded, the image emerged: 
Jayabai, an informal waste picker, gathers things most people consider wasted and gives them new life. She embraces Pourikarmika, Valli, who turns organic matter of all kinds back into earth. Together, they affirm their vision for a future in which they will receive as much from the city as they give to it.
'We are for you, you are for us'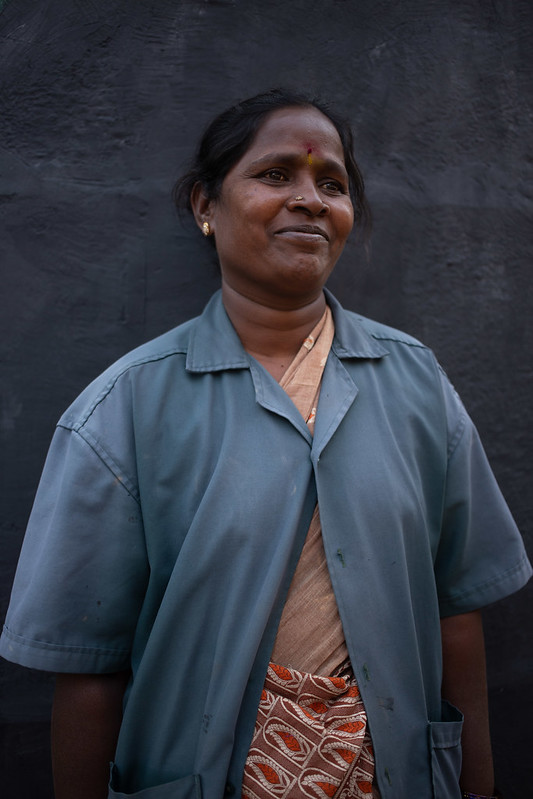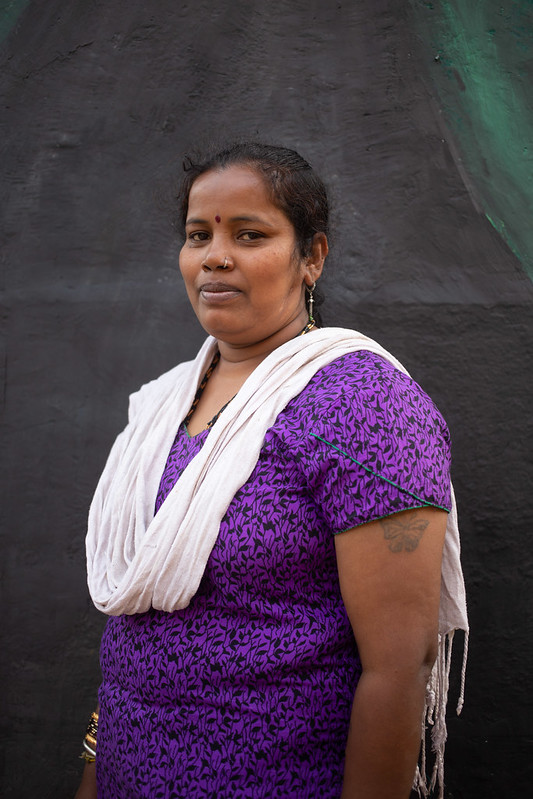 At the onset of the COVID-19 pandemic, the fear of contamination framed single-use plastic as a seal of 'protection,' while leaving out of the picture where it goes and who handles it after it is disposed of. 
Across India, the majority of plastic waste is sorted and recycled by informal sector Waste Pickers. The workers who segregate waste play an essential role in sustaining our urban ecologies, and yet, they are often treated like disposable lives. 
At the beginning of the lockdowns, officials across the country gathered in emergency meetings to discuss what (and who) is considered essential. While the value of workers was being debated behind closed doors, those who do the labour under discussion were never asked what they consider essential, making visible a power dynamic that runs throughout our systems, one that is told to us, rather than determined by us. 
In Bangalore, Waste Pickers who are responsible for the city's recycling were not recognized as 'essential,' resulting in the loss of their livelihoods and tonnes of plastic waste they would have segregated and recycled being dumped into landfills or burned.In this context, Fearless partnered with Hasiru Dala, a social impact organization focused on justice for Waste Pickers, to reclaim narratives around what is essential and to whom, and create a public monument affirming the absolutely essential role women Waste Pickers and Pourikarmikas (formal sector waste workers) play in regenerating our cities and mitigating climate change.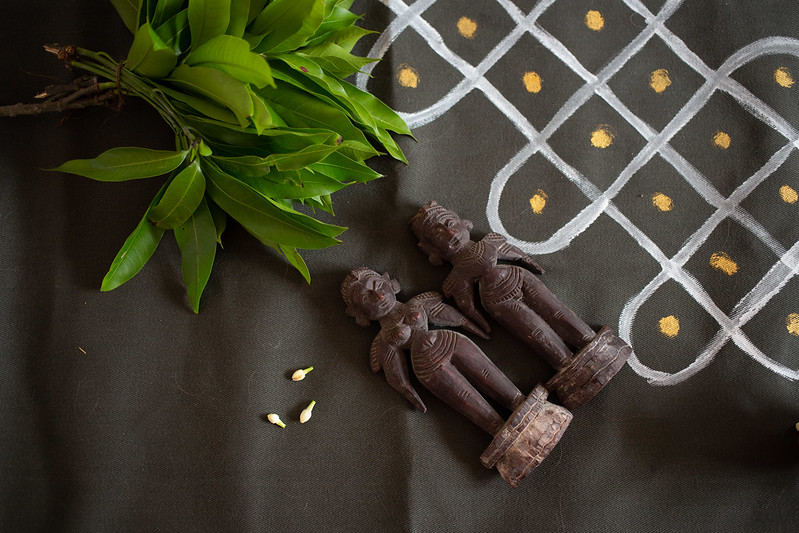 In a large room, in the heart of the city, we gathered together with a group of formal and informal waste workers. We sat around a green canvas with an intricate kollam pattern hand painted in it's centre – in white and gold. The small of jasmine flowers, strung into the womens' hair and carpeting the floor where we sat, hung heavy in the air. 
We started our workshop with the question: 
What do you give the city? What does the city give you?
Women shared stories of their daily labour and how much they give to the city, keeping it clean, reducing waste, doing the work that most other people don't want to do. In turn, what the city gives them, is a livelihood, the opportunity to educate their children, a sense of liberation – giving them choices they wouldn't have otherwise had. On the other hand, some shared stories of being treated with disrespect, disregard, and a lack of recognition. 
And so, in the first part of our Ritual, each woman took a piece of paper in her hands, crushed it, and threw it aside as she answered the question: 
What do you want to dispose of?
I want to dispose of: 
Disrespect 
The hardships of generations that I've inherited, that I carry
Domestic Violence 
Gender Inequality 
Discriminations, all of them. 
The arrogance of the rich
Wealth, Poverty
Corruption.
My daughter's pain- she will not have to endure what we have endured (it's all for her).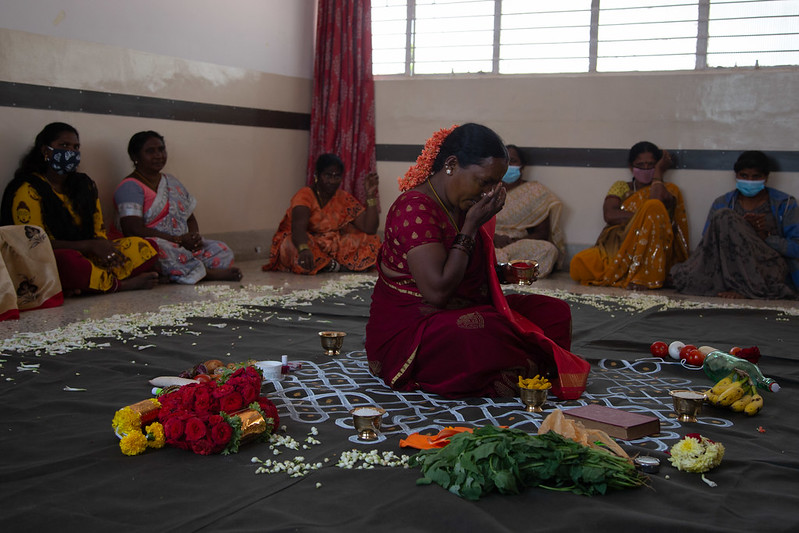 While the women who keep our cities clean do some of the most essential labour in urban space, they are rarely, if ever, asked what they consider essential. 
In the second part of our Ritual, each woman sat in the centre of a kollam pattern- an intricate geometry drawn by women to remember the importance of beauty, everyday. Surrounded by symbols of sustenance, each chose an object that represented her answer to the question: 
What is essential to you?
Beauty and God- and so I press kum kum into my hair.
Bhoomi- this earth, this soil,  is my house, is my home, is my mother, is my belonging, is my source of sustenance. I was born from this soil, I will grow with it, and to it I will return. And so I care for it. 
The plants that sustain us- where would we be without them?
Gratitude is essential to me. 
Nourishment
Safety
My work- I am essential. 
Respect. I adorn myself in a saree, with flowers in my hair, head held high- everyone should live, like this.
My mother 
(my daughter) 
A future 
of Dignity.
Once upon a time, Bangalore was known as 'the Garden City,' for the abundant  greenery and old trees that adorned every street. This changed in the 1980s with the IT Boom that transformed every part of the urban environment. Holding new work opportunities, the city's population grew faster than it's infrastructure could. Today, Bangalore is known more for it's traffic and constant state of (de)construction than for the garden's that now live in old photographs and in memories.
Now, many of the city's residents rush to move through public space, rather than in it.
MG Road is the central vein of this urban movement. This is where we chose to paint our mural: in the pulsing centre of the city, next to  the Civil Courts, on the wall of the iconic Public Utility Building – (which once was the tallest building in Bangalore). The building houses the offices of high-ranking government officials, city authorities – men and women (mostly men) who act as gatekeepers to our relationship with public space, determining how this is accessed, for what, and by who.
As we went through process (after process after process) of securing permission for this 'public' building, we found ourselves navigating webs of power up the winding staircases and down the long dark corridors, into dusty waiting rooms where it felt like time had stopped. We had decided with our partner, Hasiru Dala, that calling government actors into the process would make them accountable to the women we were working with. 
Through the work of groups like Hasiru Dala, Bangalore stands at the forefront of city-wide implementation of waste segregation – where close to 90% of domestic waste is segregated at source. For close to a decade, Hasiru has been calling for city-wide waste segregation, government identity cards for informal sector waste workers, recognizing the essential work they do. They have been campaigning for the rights to safe working conditions, health insurance and employment security for close to 20,000 informal waste worker families around Karnataka.  
Hasiru Dala works with both Waste Pickers and Pourakarmikas, recognizing how important it is for formal and informal workers to support each other: 
"One would imagine that the waste pickers and pourakarmikas are natural competitors with each other and would be hostile towards each other but this is not the case at all with the women we work with. They have realised that their work supports the work of the other. And for this they need to work together."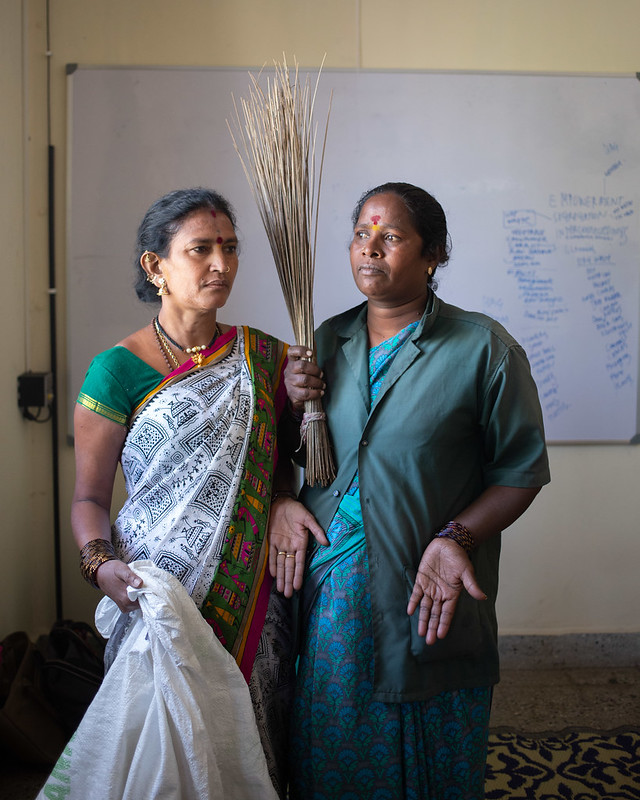 In a second workshop, women Waste Pickers and Pourikarmikas who are a part of Hasiru Dala's network discussed how they wanted to be seen. 
Dignity is essential to us. 
The image emerged of two women who work in different sectors of the city's waste management system, giving new life to things that most people consider wasted.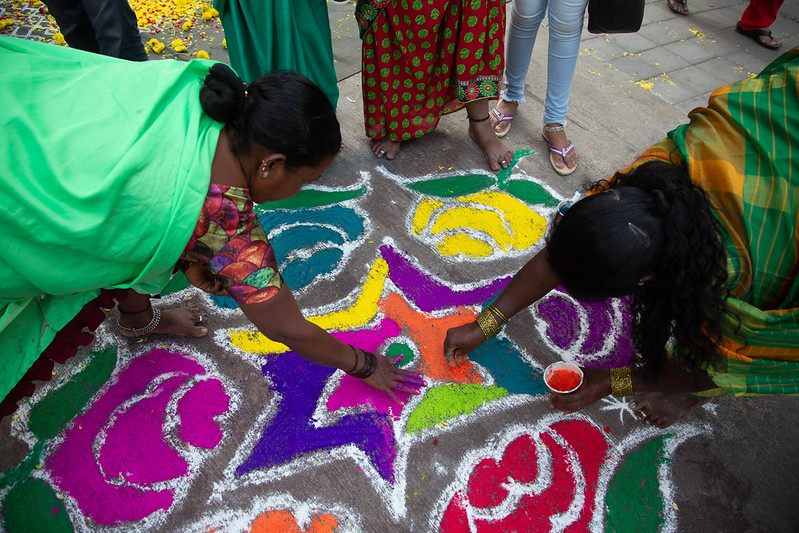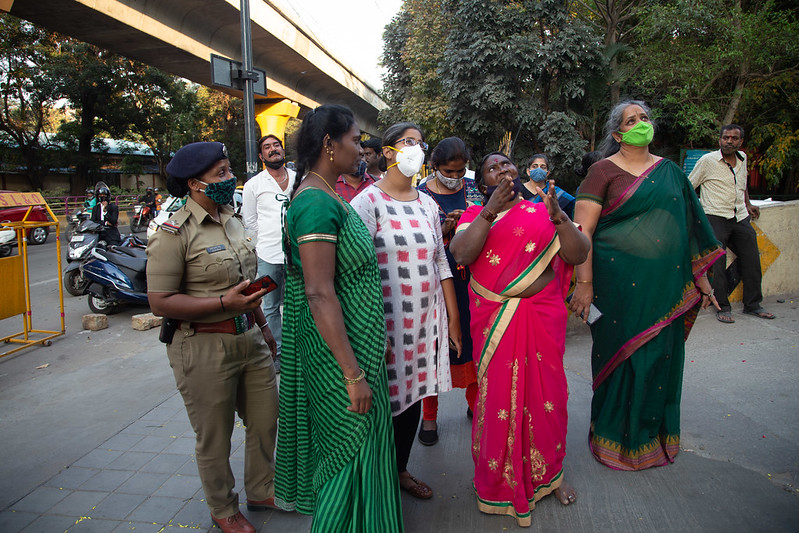 Women Waste Pickers and Pourikarmikas embedded visions of their imagined future city into the walls in gold, held space for conversation, and educated passerbys about the value of waste segregation and the work they do. Citizen volunteers joined them in solidarity. Young girls claimed space on the street, created images of themselves and pasted them on neighbouring walls. Police and watchmen watched over us, this time, in support, shared meals and shelters with us. The space around the mural, usually hostile, dominated by officials and urban hustle, became a space where women could be in their bodies with ease.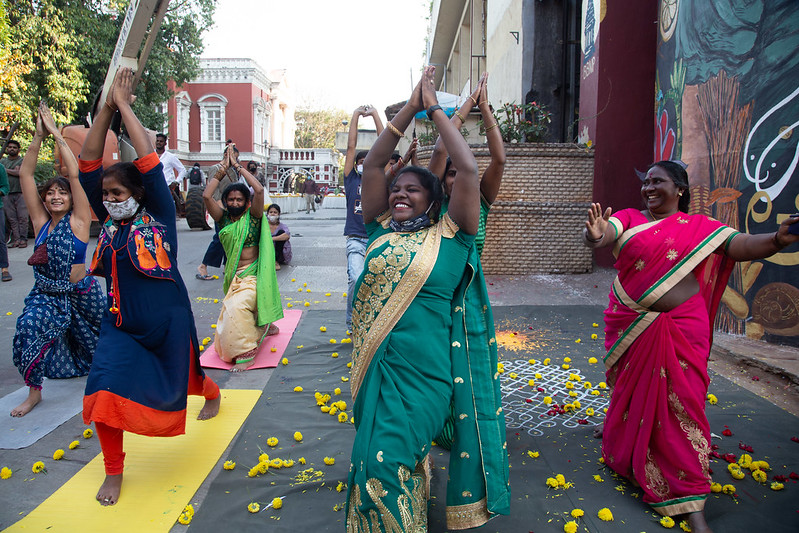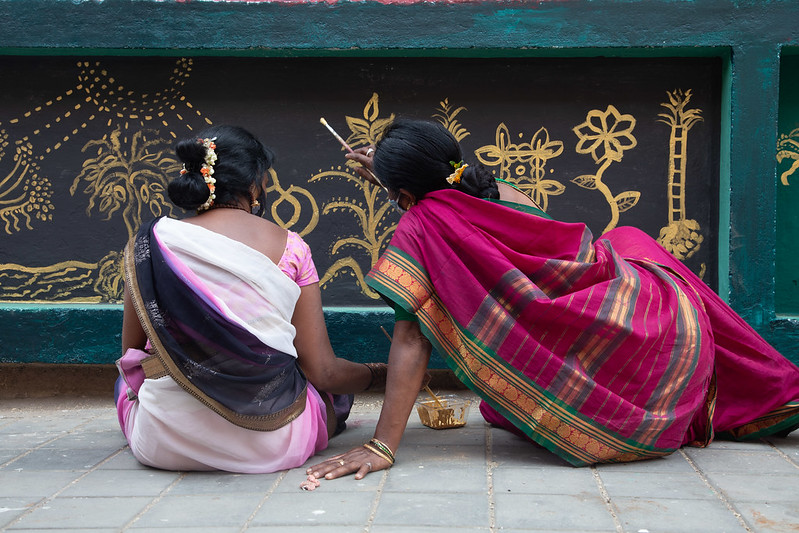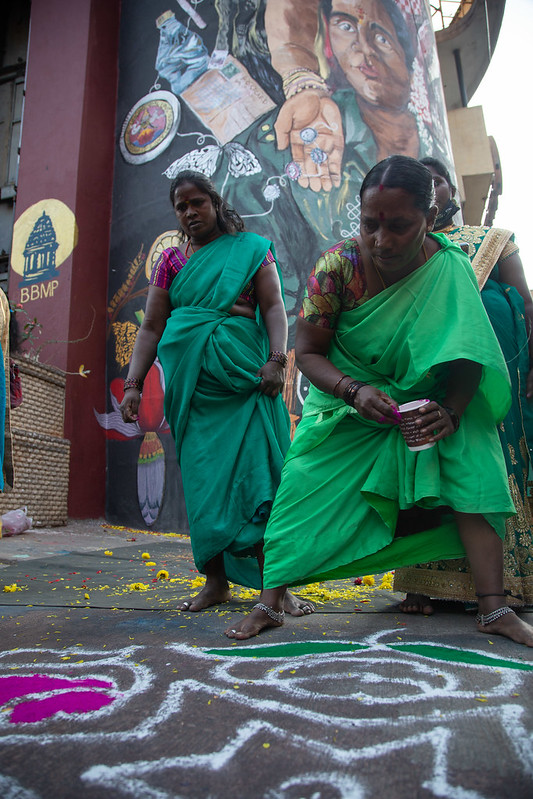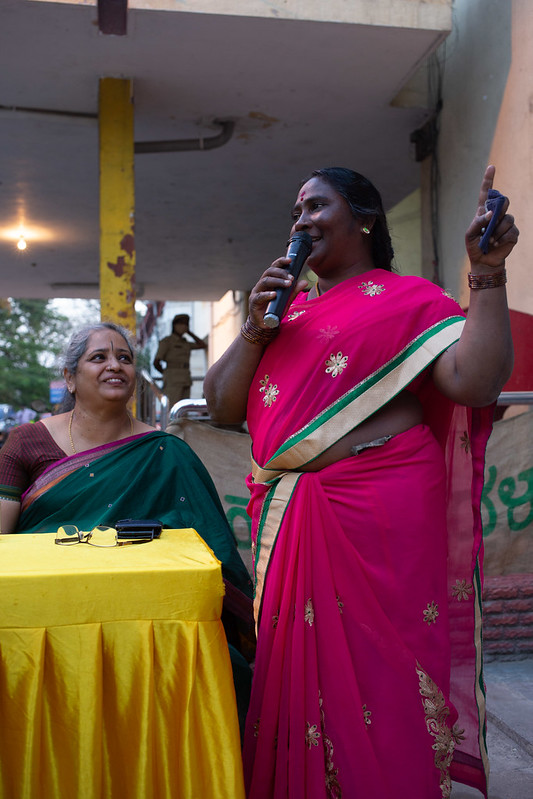 Our urban ecosystems, like all ecologies, are made up of networks of relationships.
In the future, we want the city to give us as much as we give it. 
A future in which all labour, all life is treated with dignity. 
Reciprocity is essential to us. 
'We are for you, you are for us'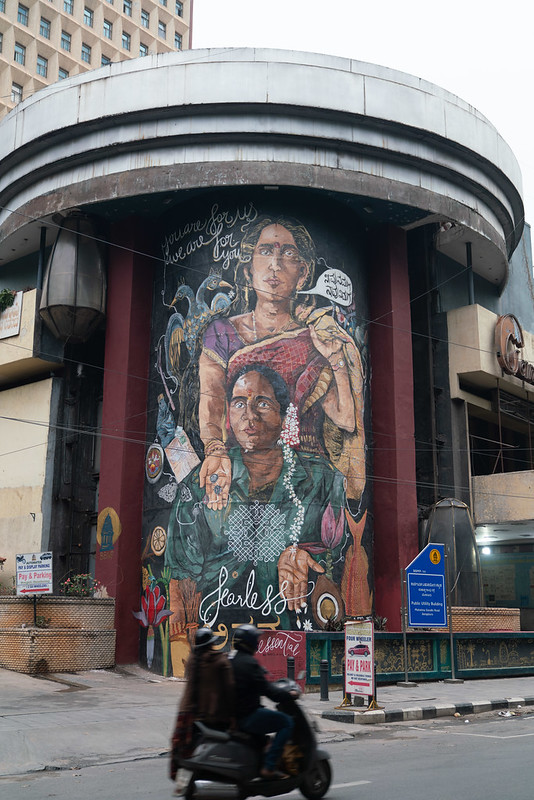 Jayabai, an informal waste picker, gathers things most people consider wasted and gives them new life. She embraces Pourikarmika, Valli, who turns organic matter of all kinds back into earth. Urban alchemists, they tend to our streets, affirming their vision for a future in which they will receive as much from the city as they give to it.
We are for you, you are for us