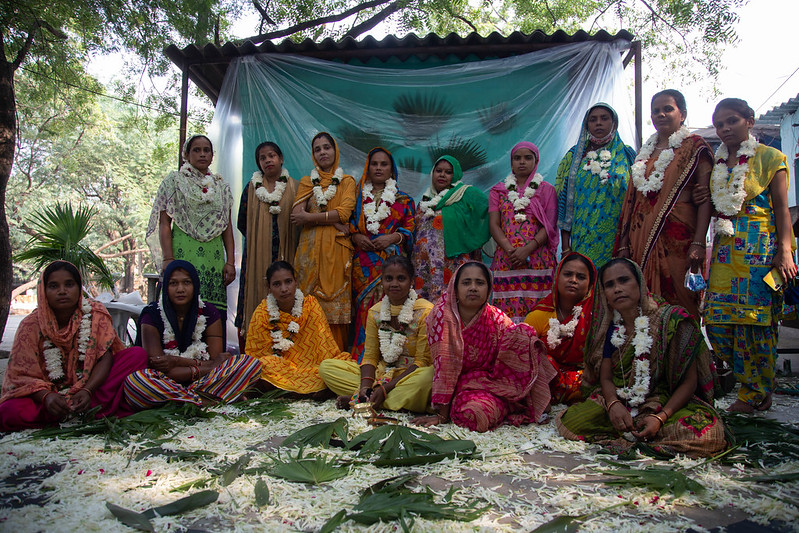 At the intersection of two arterial roads in New Delhi, not so far from Parliament house and India Gate, stands a quiet monument. One that emerges from the embrace of a giant सीमल (silk cotton) tree. Here two women face each other, one looking at the city rising between them (from their open palms) and one looking towards us. Her gaze strong and soft. They belong to a community of women who collect, sort and recycle the waste we create. Old books, plastic water bottles, torn letters, peels of fruit (nothing is ever wasted- everything has the potential to turn into something).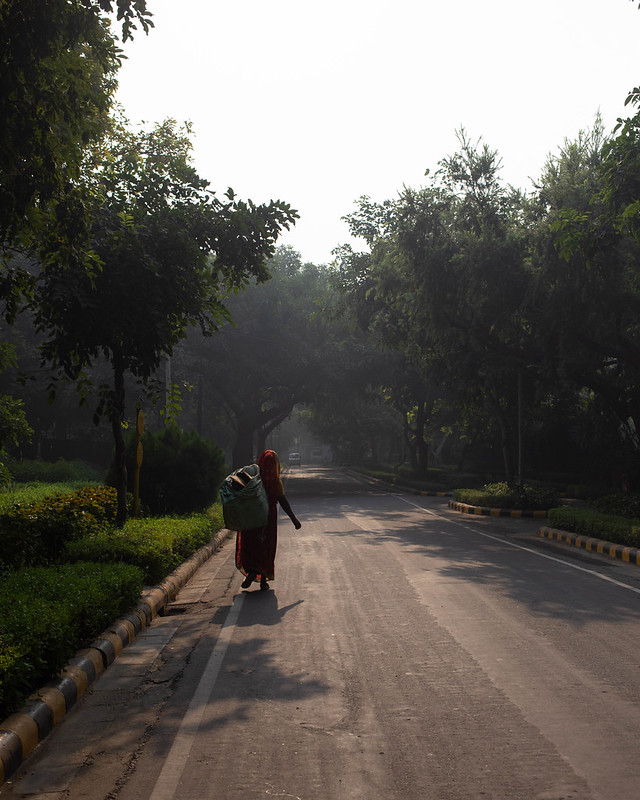 On the night of March 24th 2020, life as we knew it in India came to a complete and total standstill. An unknown virus pushed us away from touch and into isolation. Fear swept over everything. 
In this strange half-light time, as hours turned to days that turned to weeks, many of us were able to shift our work and sources of sustenance online. We stayed connected. We ordered in, food and sanitized groceries. In this time, plastic came to mean protection. But what happened to it once it was discarded? 
India has one of the worlds largest informal waste management sectors. In Delhi there is an informal workforce of thousands of women who leave their homes before the sun is up to collect, segregate and recycle the waste we (often thoughtlessly) dispose of. Waste that would otherwise go straight into landfills, rivers and oceans. Before the rest of the city is awake, they walk through the streets carrying a big bag on their back (often as big as them when it's full) picking up discarded things that can be recycled.
During the first 2 months of the country-wide lockdown, their livelihood was taken away from them – they were left in the dark with little state support and no way to earn a living because they couldn't leave their homes. They lived on the savings they had. As the months passed, they chose to step out, risking threats  and harassment from the police to collect the little they found. This without any protective gear at a time when the rest of the country was still locking itself in.
We began to ask ourselves at Fearless – How will we emerge from this? Can we emerge in to a safer, more inclusive and more loving world?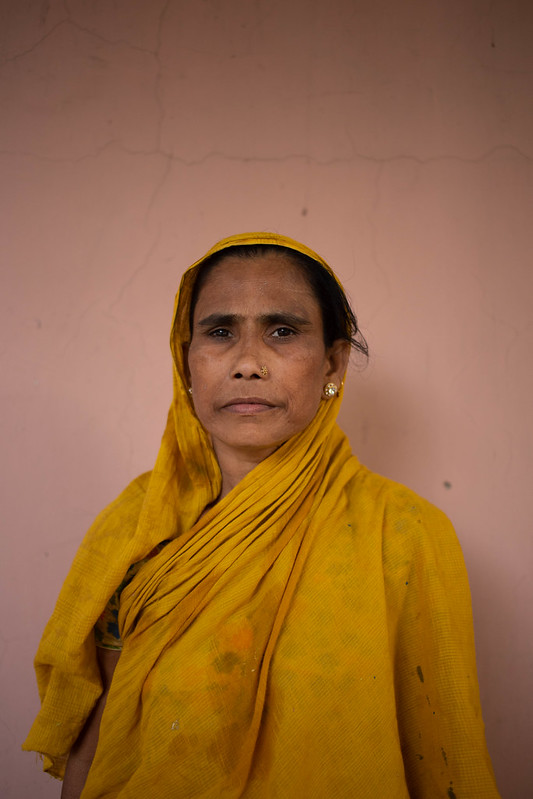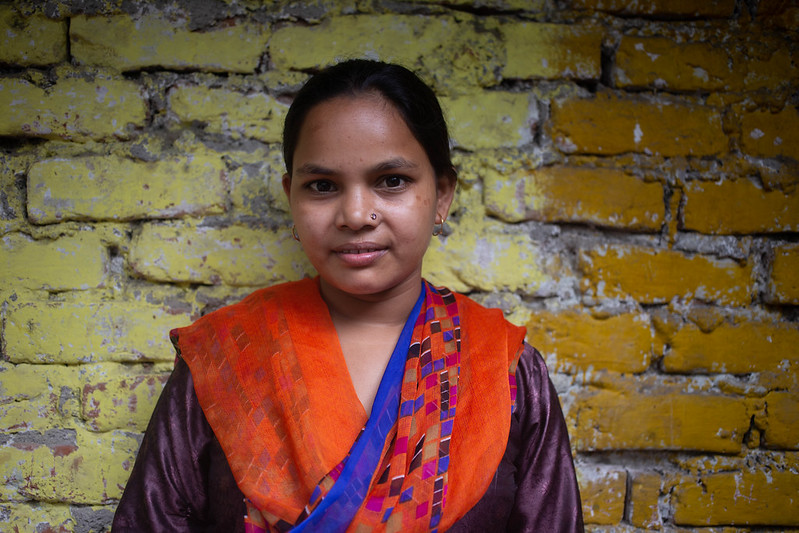 At the same time, people in positions of power were debating what and who should be considered  'essential.' This drew us at Fearless to start thinking about how we treat land, life, and labour in a social context where 'essential' workers are treated as 'disposable' lives, and disposable plastics permeate nearly every part of our landscape.
One of the biggest lessons the pandemic was teaching us was just how closely interconnected we all are. Very often in our environmental and social justice movements, we become so focused on one struggle that we don't see the interconnectedness of our issues (and our movements). Here we started to see- the intersections between Disposable Plastics, Disposable Lives, Disposable Incomes |  Consumption and Waste Management  |  Caste and Class |  Dignity and Labour |  Access to Public Space  |  Self Representation  |  Narrative and Power – exposing a framework within which some lives are considered disposable and labour is not valued equally.
We partnered with Chintan, an organisation in Delhi who do research, advocacy and outreach work with the informal sector workers in the city, helping mobilise and offering support and protection to those unrecognised by the system. Chintan have been working on the ground for over a decade with a community of Dalit and Muslim women who informally work in waste segregation. 
The women from Vivekananda camp live close together, with their families, in a settlement made by their hands out of things they've collected and recycled. The camp sits nestled in the centre of Lutyens Delhi, surrounded by embassies and consulates. Here, under the dense shade of low trees, there is a whole world unto itself where old, discarded and forgotten things are given new life. The most careful consideration is given to the value of materials, their potential to be turned into something new (and useful) and this in turn becoming a livelihood and form of sustenance. The women walk kilometers everyday, setting out before it's light, walking for hours and then carrying back full, heavy bags. They do this every day that they can so that their children don't have to, and can go to school instead. Meet some of the women of Vivikananda camp:
"The camp is my only home now." 
Dulali Khatoon moved to Delhi from her village in West Bengal, in search of work with her two children, without her husband.
She is tall, has a strong loud voice and is constantly making those around her burst into laughter. 
She is essential. 
Meenu Begum moved to the city over 20 years ago from her village Hathkola in West Bengal. Meenu, along with her family were one of the first few who set up the camp in Chanakyapuri. In the time since she's seen it grow and thrive, she told us. 
While we were painting together (despite her age) Meenu was always the first to break into dance and climb ladders, while the younger women hesitated.
She wants for her labour to be recognised with respect. 
She is essential.
Jharna, is a firebrand. She is one of the community leaders at Vivekananda Camp and tells us that she is completely unafraid to speak her mind. 
Often, when there are cases to be registered with the police, complaints or demands to me made with the local authorities – Jharna sees that things are followed through. She motivates the women from the camp to claim what is rightfully theirs.
"If I accept defeat then I remain a victim – so I refuse to."
She is essential.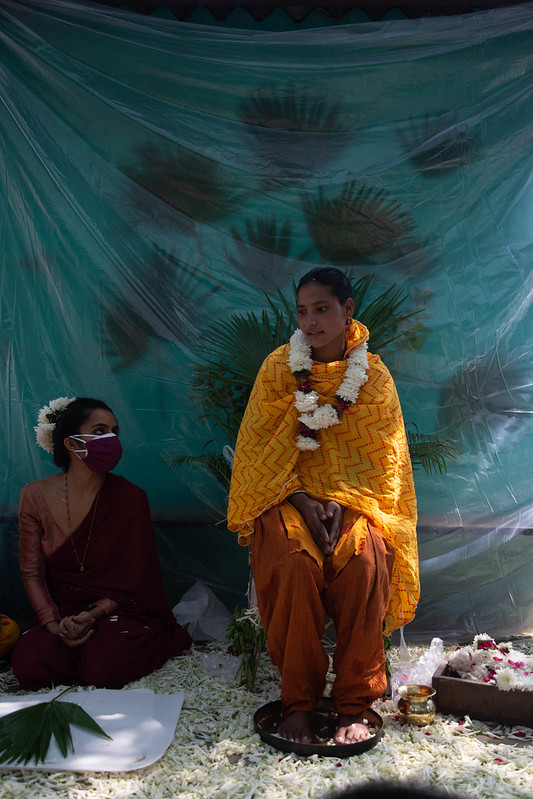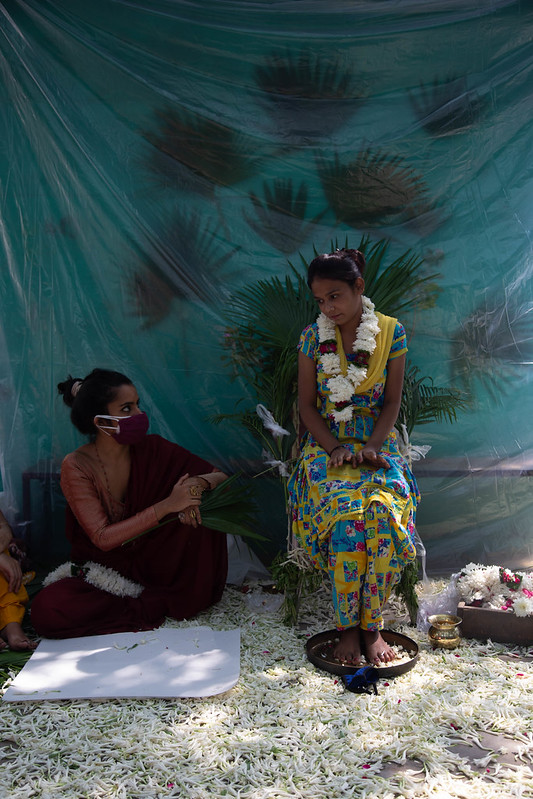 On the day of our workshop we found a quiet corner at the camp and enclosed it with pieces of clear plastic sheet and cloth, making a safe space for ourselves. We covered the ground with a thick carpet of white rajnigandha flowers and made a throne of a chair adorned with leaves and things we found. The gentle sound of clinking glass bottles danced softly around us as they were being segregated in someone's home close by. We sat together, in a circle and began to speak about a part of our body that we considered most essential. The feet that we stand on, the ears that allow us to listen to what people have to say, to the sound of our children's laughter. Our hearts, that guide our thoughts that guide us. Our hands that do work and bring food to the table. Our kidneys that keep our whole system clean and throw out all that is no longer needed. Our bodies, like our cities, would collapse if one of these organs stopped working.
After this we began to speak about all the things unwanted that exist in our current social ecosystems – caste discrimination, the oppression of women, child marriage, corrupt governments, bickering husbands, this waste we crushed into pieces of paper and threw out.
In turn (in the centre of our circle) each woman sat on our self made throne, washed her feet and garlanded herself as she spoke about why she is essential – to herself, to her family, to this city and to our world. As she finished we chanted around her together "आप ज़रूरी हो" (you are essential). By the time we had gone around the whole circle, every woman was garlanded, covered in white jasmine flowers, and she had named and affirmed just how essential she is.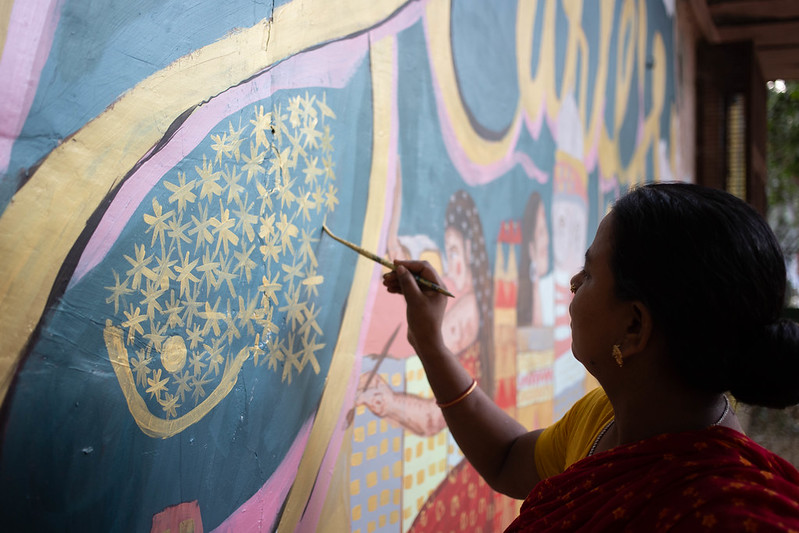 As we stepped out onto the streets to begin making our mural together, the women picked up paintbrushes for the first time in their lives. They were occupying these streets in Delhi as spaces of pleasure and joy for the first time. Spaces that had always been associated as those of labour were transformed into ones of leisure at the site of the mural. We held our brushes and climbed ladders, at first hesitatingly and then with bold abandon. Played music loud. Laughed. Shared stories of home. Stepped into each other's worlds. And painted one we'd like to live in together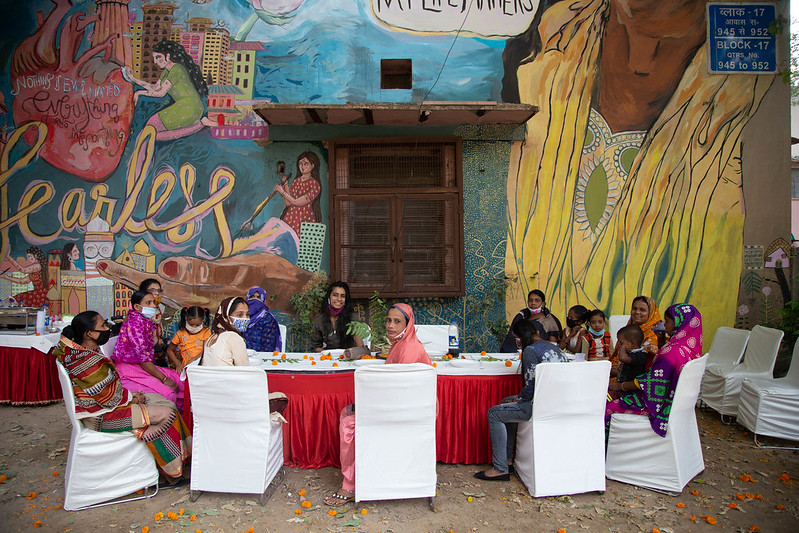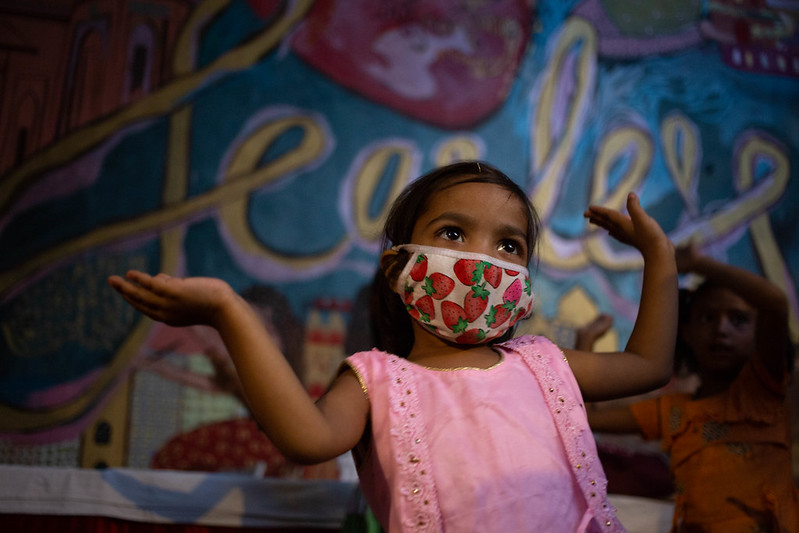 A few days before we arrived in Delhi, news broke out across the country of a brutal gang rape of a young Dalit girl in Hathras, UP. This news shook many of us to our core. We watched in horror as her family, her home and her story became battlefield for opposing political agendas and media houses. How would she be remembered?
When we hear stories about those who have been pushed to the margins, they are most often stories of brutality and loss. Not enough is said, heard and shared about their lives outside of this. Stories of celebration, joy and life. This is what we chose at the Fearless Feast as we finished painting. This was held at the site of the completed mural. Tables, chairs, linen and flowers were laid out. The women arrived, dressed in their finest, along with their children and we sat together to share a meal. Residents from the neighbourhood and those who lived in the building we'd painted joined us. It was the first time we were having a gathering like this since the world had gone quiet. With the music and setting winter sun it felt like some light returning. A group of dalit and muslim women dancing in celebration, the beauty we'd created together, our laughter on the street – were acts of our resilience.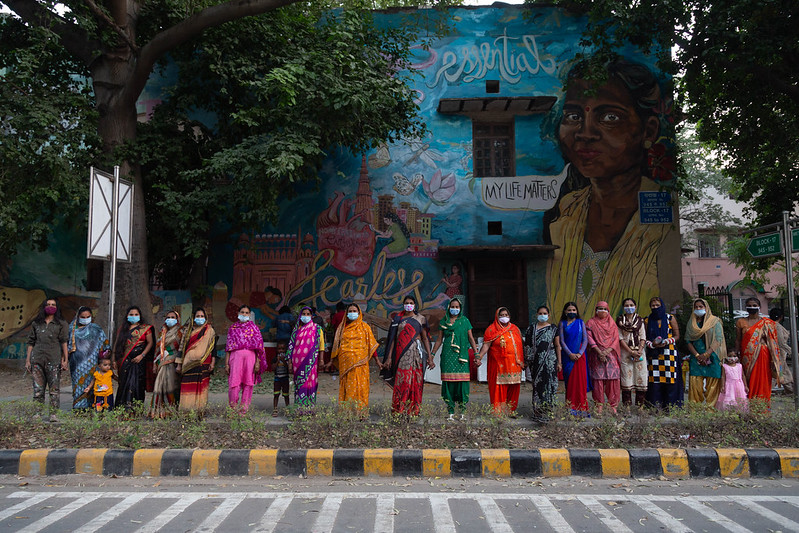 Two women face each other, one looking at the city rising between them (from their open palms) and one looking towards us. Her gaze strong and soft. They belong to a community of women who collect, sort and recycle the waste we create. Old books, plastic water bottles, torn letters, peels of fruit (nothing is ever wasted- everything has the potential to turn to something). 
The image of the women in the mural occupies one of Delhi's most visible main roads. It affirms:
हमारी ज़िंदगी भी प्यारी है
Our lives matter
My life matters