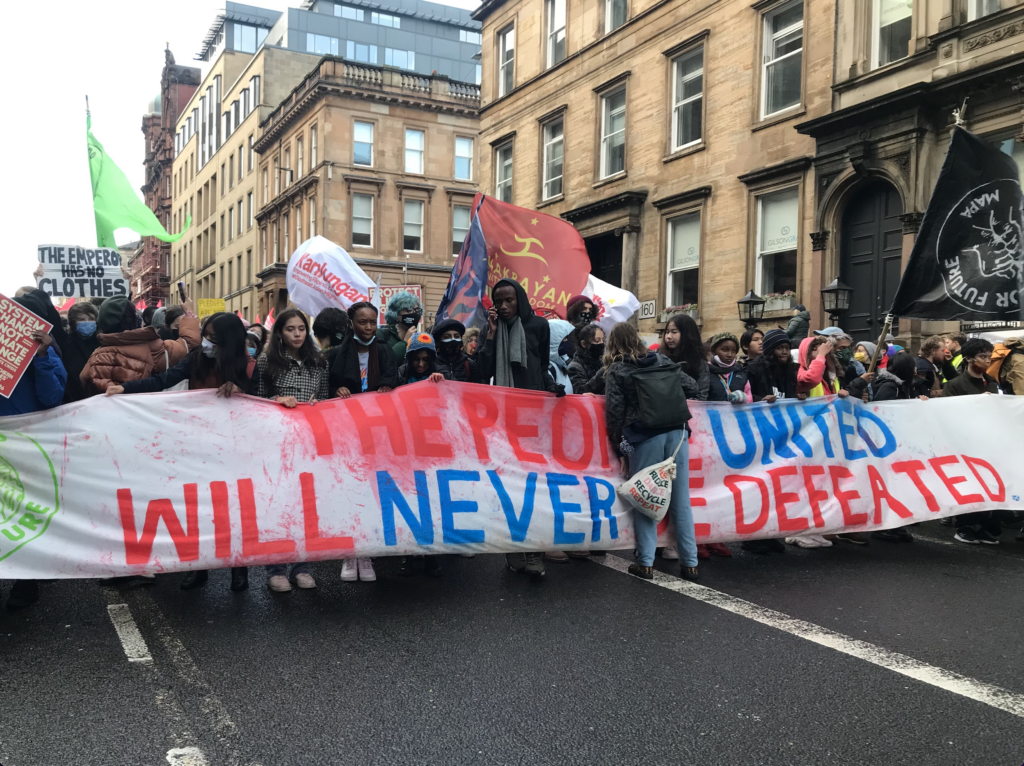 In this time of floods and climate crisis, amidst the COVID-19 pandemic, global leaders gathered together at COP26 in Glasgow with the aim of accelerating action towards the goals of the Paris Agreement and the UN Framework Convention on Climate Change- seeking to "build back better," and greener. However, we know that "building back better" is not possible without the voices, knowledges, and leadership of Indigenous nations, intimately connected to their ancestral territories- not as commodity,or resource, but the foundation of identity, instruction for living well in the world.
In conversations surrounding COP26, discussions about land and climate were most often framed through fear- 'crisis,' 'point of no return,' 'doomsday,' 'failure'- rather than from a place of reverence and connection to place- a connection practiced by Indigenous nations, when they govern their own territories. 
As world leaders and corporate representatives gathered inside buildings to make decisions about the climate that will affect us all, Fearless stood in solidarity with Indigenous leaders who had come as delegates- autonomous and self-determining- to represent their own nations and deliver their messages.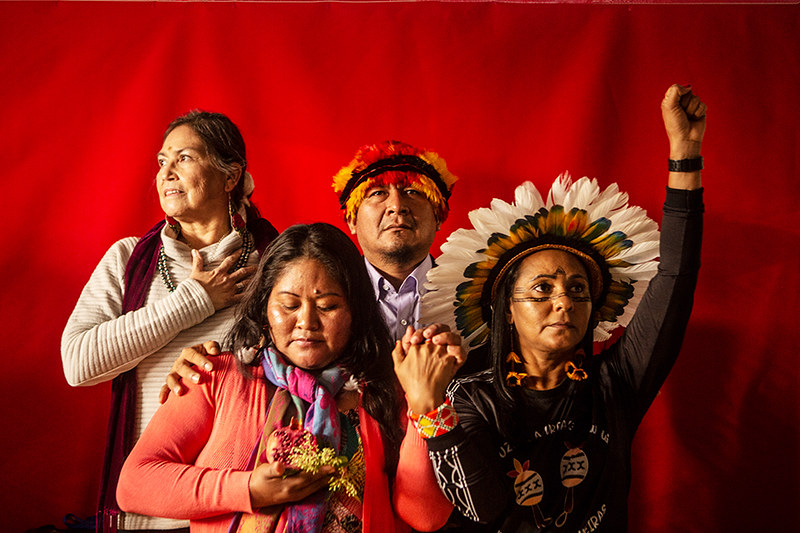 While this moment in history does feel apocalyptic, in many of our cultures we know that the end of one world is the beginning of another. And so, we started our storytelling workshop by sharing Creation stories from our own (living, breathing) cultures. 
The creation stories of the Diné (Navajo) nation are sacred, only to be told in winters. 
White Shell Woman, the holy person helps the Diné through the glittering world. She had a home in the West that the sun made for her. Then the mountains were formed. She performed all the ceremonies and brought the land, the mountains, the relationships into creation. 
They are (sacred) Created. 
The Wapichan's Creator brought everything to life. What comes to earth, comes from the maker at the beginning of all things. 
Life is Created. 
Six years ago, after decades of dispossession, oppression, the Wampsi nation created their own autonomous government to protect their territories, for future generations, 
in perpetuity- Created. 
So many creation stories begin with water, so it was only apt to talk about the recreation of the world in a community space called Galgael- a centre for cultural revival that seeks to reclaim Scottish traditions banned during British colonization, including that of ship-building.
There is power that comes with having the ability to create again, to take back from the hands of the oppressors and nurture, once again, what rightfully belongs to us, to end this world, 
and (re)Create anew.
Saul from the Northern Peruvian Amazon tells us how his people are continuously resisting government oppression. He is a leader of one of the national Indigenous federations. He was forced to flee and seek asylum, leave Peru and hide in another country for several months because the government was hunting Indigenous leaders and occupying their land. His world (as he knew it) came to an end. 
As we gazed into the abyss, we asked: what in this world do you want to end? 
One by one participants answered: 
I want 
patriarchy 
oppression 
violence against Indigenous peoples
disconnection 
dishonesty 
contamination of lands and bodies
greed
the occupation of Indigenous lands
to 
end.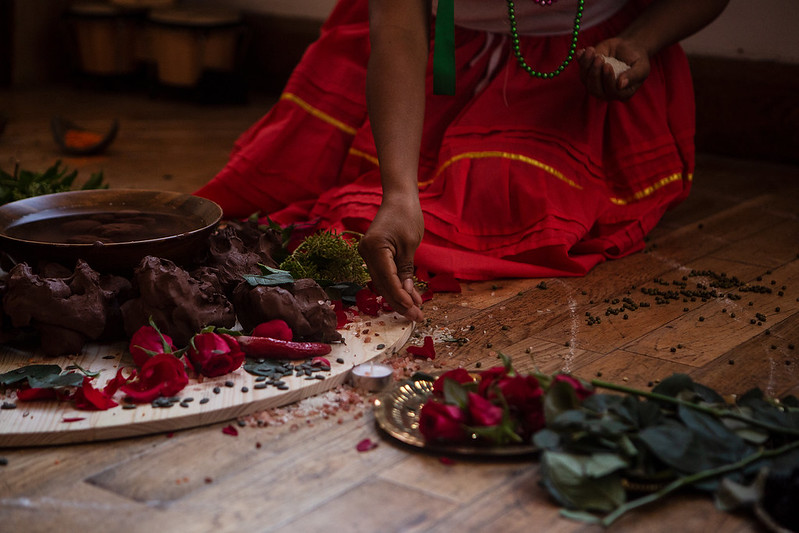 In many of our cultures, the end of one world is the beginning of another. And so, as the tides rise around us, after bringing an end to many worlds, we then asked: how does the world begin again?
One by one, leaders added leaves, flowers, grass, seeds, clay forming a world that grew wider and more abundant with each hand (this world we create together): 
The world begins again in love. 
The world begins again when we sow seeds of life, to reforest hearts, with roots deep in soil. 
The world begins again with the wisdom, brilliance, and beauty of Indigenous peoples, grounded in their Creation stories. 
All the answers are there.
The world begins again when we start creating it, here and now- boundless.
The world begins again when we acknowledge our own power, the plant kingdom, the animal kingdom, her majesty – the moon. 
The world begins again when we respect the gift of water, of air, of land, of forests. 
The world begins again when we protect each other.
The world begins again abundant, when we make the most of what has been given to us, and when we give it back.
The world begins again when we seed the heritage of our children, their inheritance of mountains. 
The world begins again harmonious, in reverence, in connection with the sacred.
The world begins again when we honour women, 
the feminine and masculine and the spectrum between. 
The world begins again in union, in kinship. 
The world begins again, nourished.
Diné (Navajo) artist Nicole Neidhardt brought corn pollen, traditional medicine from her territory to bless this new beginning: "I think about the world beginning again, I hope that we can ground ourselves in our Creation stories. Because all the answers are there."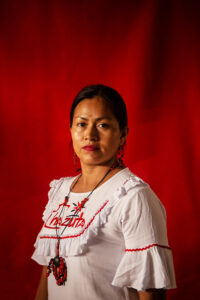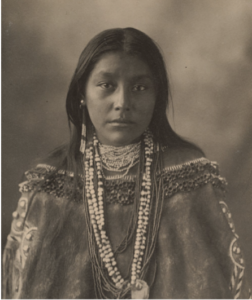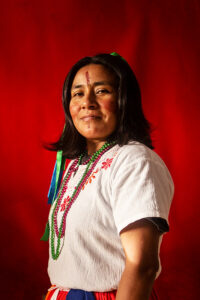 What are images we see of Indigenous peoples? 
We ask.
Fetishized, Defeated, or Fighting.
Came the answer.
Images of Indigenous leaders are seen through colonial eyes in photographic catalogues as keepers of the sacred earth (while the rest of the world plunders). 
We see "Indians" fighting cowboys (and being overthrown in battle) painted in museums. 
And more recently, we see images of Indigenous Resistance- at pipelines, in protest, and on contemporary capitalist battlefields. 
We then opened conversations around the representations we wanted to create. 
At first, the images that flooded out were images of gentle caring for the earth- but representations like this perpetuated ideas that only Indigenous peoples tend earthly, while everyone else exploits. 
Then came images of resilience- fists raised up high in the air. But soon even that was debated- why are images of power always associated with struggle, resistance, and demanding (something, from someone else)? 
Finally- a third kind of image emerged. What is the power we inherently have, that was taken away? What can be reclaimed?
Sovereignty, came the answer. 
Statues of Queen Victoria exist all across colonized lands. What we don't see are images of sovereignty and power of the original leaders of those territories. 
Together, across nations, we co-created an image of two leaders, like King and Queen, gazing down into the streets of a city built out of slavery. Not resisting or asking for acknowledgement – but already, inherently, and always- sovereign and self-determining. 
(We bow down)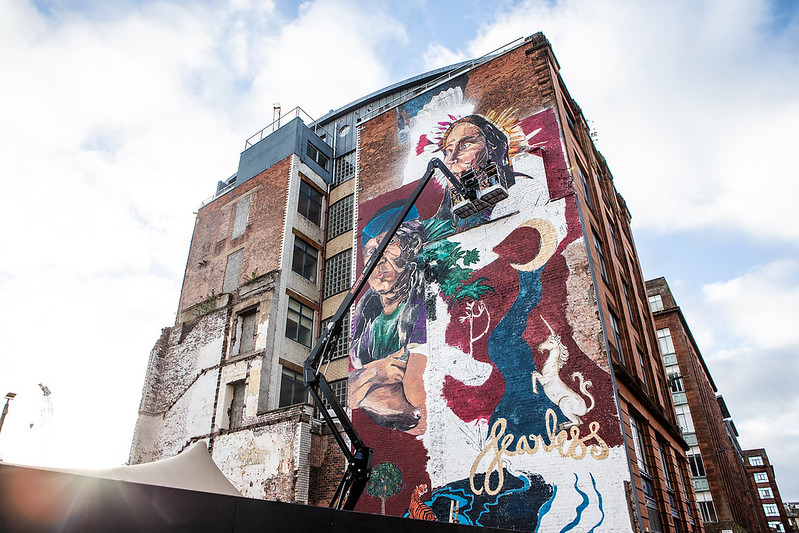 We were painting at the heart of colonial empire. Merchant City is spice and slave sugarcane central. British colonization of the Scottish people led many of them to seek life elsewhere, in the process imposing settler violence on Indigenous nations around the world in search of refuge and wealth. Empire begot empire, and today those cycles of dispossession are embedded in street signs (still) named after slave traders and statues of unicorns bound to crown laid across the streets of Glasgow. Yet expressions of solidarity and dreams of liberation for all colonized people float in the air, passed between trusted ones on street corners. In the words of ally and Indigenous land rights activist Tom Younger: 
"As someone who's lived in Glasgow for many years, I've been reflecting on the significance of doing this particular mural in this particular place. We're here in Glasgow's so-called "Merchant City," which was built from the wealth accumulated by the few from colonialism, from sugar and tobacco plantations across the Americas, and Caribbean slavery. This ripped apart peoples, territories, and their worlds across Africa and the Americas. The wealth and power accumulated there enabled elites to further dispossess communities in Scotland of their lands across the Highlands and Islands territories of the Gaels. And here in Glasgow, supported the rise of fossil capitalism, including through the slaver James Watt and his steam engine, which gave rise to the fossil fuel world system, which continues to dominate and destroy so many worlds across our planet today in search of power. And all of this made Glasgow the second city of the British Empire. So it seems to be especially appropriate for Indigenous leaders to be represented in Glasgow today, in the ruins left by that Empire, to say that they were never conquered, that they resist and continue to exist, and sustain their territories of life, and rebuild and expand their autonomies and self government in the face of these systems of violence, dispossession, and occupation, to create good living for all human and more than human worlds."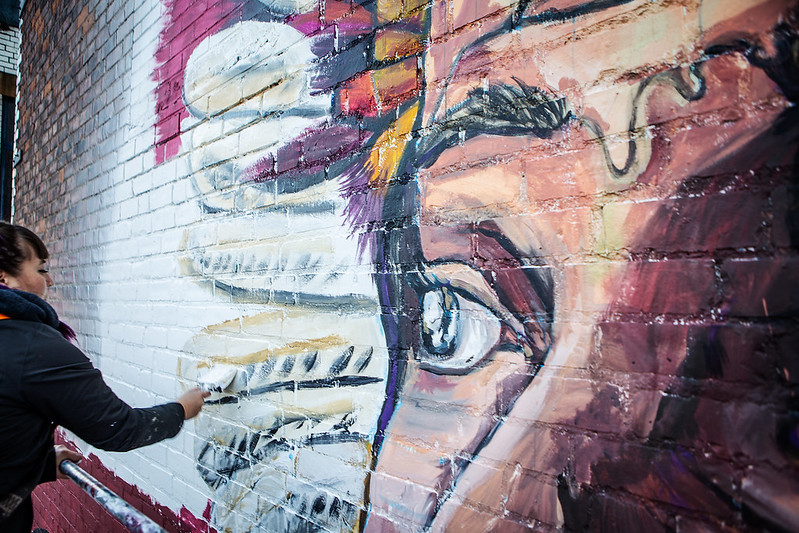 Centuries pass by, and empires crumble. But the systems of company and colony remain. 
At COP26 we walk through the 'Green Zone' seeking solace and community and instead find ourselves in a wonderland of tech-corporate solutions for the environmental crisis.
Here we are reminded of new empires- Microsoft, Unilever, Google logos appear like heroes,
and science experiments remind us how the light reaches the earth. 
Here we are reminded of excess- buffet luncheons and plastic forks. 
A man on stage says "If African women continue to reproduce as they do currently- we will  truly face a global crisis. 
If women continue to fetch water from the river, how will they do any real work?" 
We want to remind him that fetching water is work, that it's not birthing that's the crisis, it's greed. 
Here we see "Save the Planet" posters, illustrated bleeding earths, businessmen funding companies while potted plants slowly wilt away in corners that people forgot to water.
As we navigated that space, women from the Global South- we encountered multiple microaggressions (almost invisible to the privileged eye, but deeply felt). 
Being seated outside in the cold in a restaurant full of empty tables, being profiled by the police because of the colour of brown skin, being put on stage as a token or fetishized as a diversity checkbox. 
When we come to these spaces in the Global North, we bear the burden of being the few (in spite of being global majority, in real world scales)- of articulating our issues, and finding solutions. The parts of this labour that are not seen are the burdens of representing entire communities and cultures, as 'the' woman of colour present. 
What does it mean to occupy spaces such as these? Why must we always take space? 
The answer became clear through our team of volunteers (mostly BIPOC) who truly made space for solidarity and allyship across borders, so this image could exist.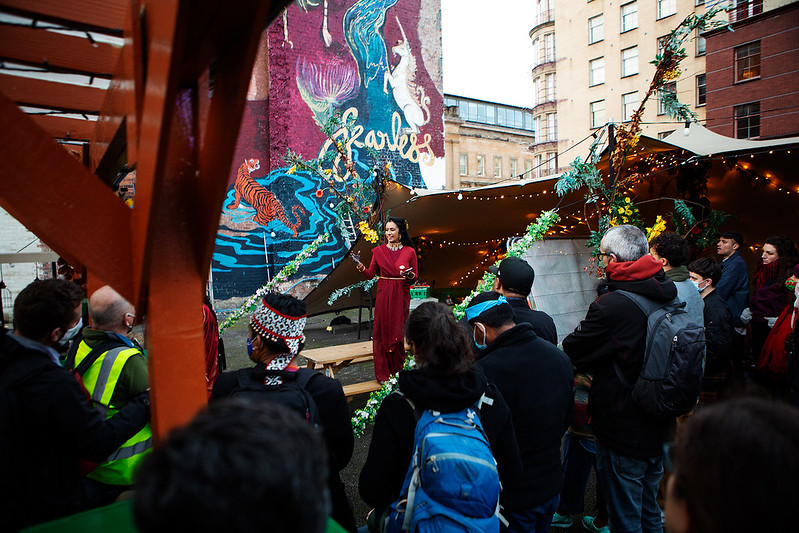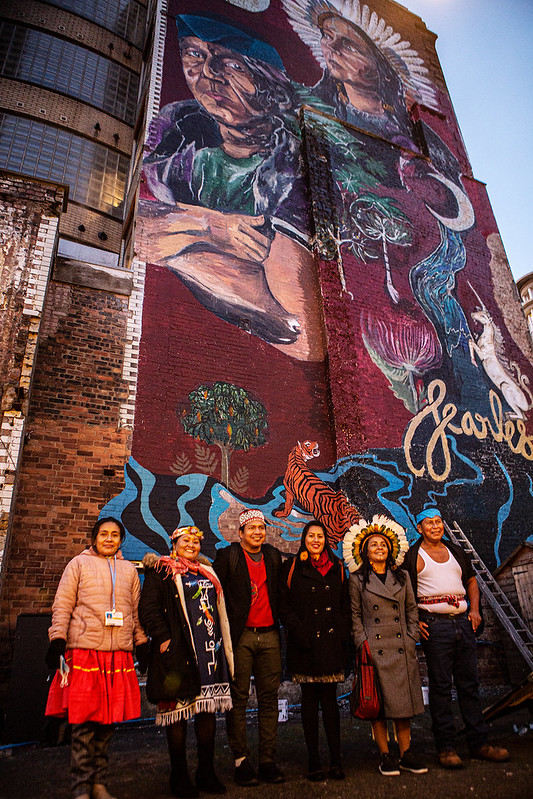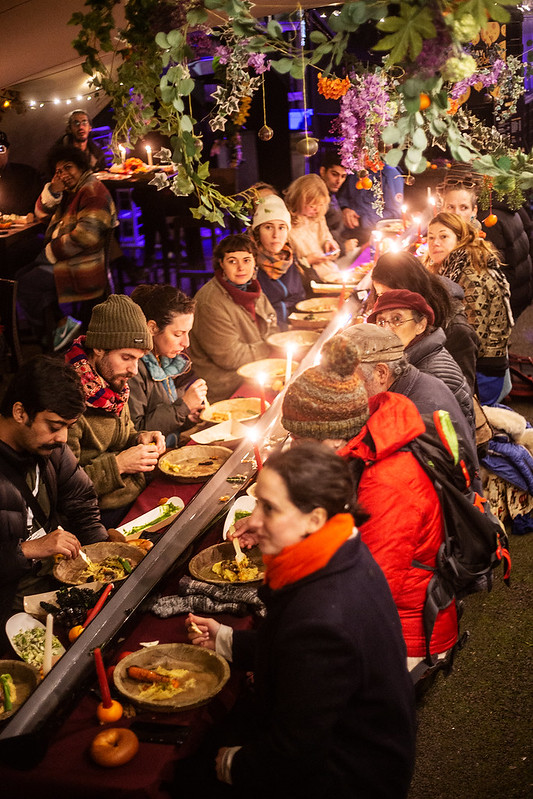 Our Fearless Feast on the streets became a space of ceremony to honour the week's work and affirm, again, the messages of the delegates present.
We collaborated with Bare Kitchen, a non profit platform run by chef Anjli Vyas which explores the cultural and environmental relationships between humans and food. Together, we conceptualized a zero waste immersive feast that explored the links between earth, body, and food. We began in ceremony – reminding us of older ways that treated food with reverence and gratitude. As a Scottish storyteller enthralled us with folktales, we broke bread and enjoyed the simple pleasure and warmth of gathering together around a table in the cold, in the shadow of the mural – the culmination of a week-long collective effort. 
Indigenous leaders, supporters and allies, local community members, and our own volunteers gathered together to celebrate and give thanks for the abundance of natural resources, if distributed equitably. 
This was a zero waste feast- as we gathered over 25 kgs of 'excess' produce from over-stocked grocery stores in Glasgow, we recognized how much gets hoarded, how much is wasted and the existing inequities in how food is distributed. Before conferences like COP26, supply chains predict and procure produce in gross excess that lays to rot if not consumed. 
As Indigenous leaders from the Peruvian Amazon looked on and listened, Nelsith told us: 
Seeing this excess in these nations hurts me. They cut down my Amazon to grow this food for people living in this country, and in the end- they throw it away.
And just like that- the systems we were all there to combat were laid bare on the table- source to end. 
As a counterforce, we offered: a feast that used the abundance of what would have been wasted, stories, and our own messages embedded into streets.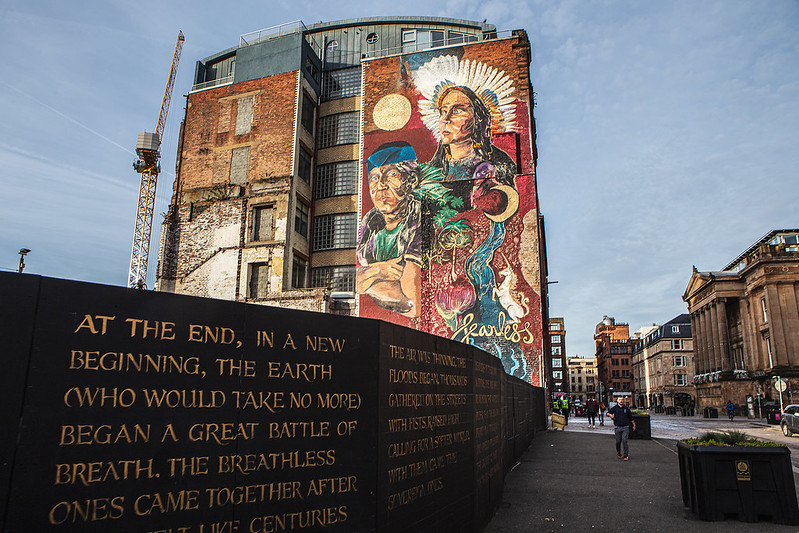 The mural affirms, "Bow Down, Honour the Roots". 
But this is the first Fearless mural that stands incomplete. What is clear to us – is that the images that we create are portals to a future yet to be embodied and far from embodied in this present reality. 
The binaries at COP26 were clear- networking in the conference halls, protests on the street. Promises made by world leaders but with corporations and companies still empowered and Indigenous nations- still on the sidelines.   
As long as conversations about climate are led by those causing the harm, we are far away from the mutual respect, autonomy, and cooperation we seek and need.
The final mural features Isidro Sangama Sangama, belonging to the Kichwa people from the Waiku community of San Martin, member of the Board of the Ethnic Council of the Kichwa Peoples of the Amazon (CEPKA), and Puyr Tembé, belonging to the Tembé people of the Brazilian Amazon. They stand along with a tapestry of trees, birds, and beasts, a clean river, a celestial sun, and moon- as a vision to a fearless future and remind us to
"Bow Down, Honour the Roots"
Our deepest Gratitude to our partners and co-creators: 
The Brazil's Indigenous People Articulation (APIB)
Greenpeace UK
Forest Peoples Programme 
Lead Artist: Shilo Shiv Suleman
Fearless Team: Tehani Ariyaratne, Josephine Simone, Gayatri Ganju, Sabika Abbas Naqvi
Film and Photography: Fabrice Bourgelle 
Production Assistant Unicorn: Hana Lindsay
Painting: Nicole Neidhardt, Valeria, Hana Lindsay 
Fearless Feast: Anjli Vyas 
Sign Painting: Charles McDonald
Translation and Connection: Tom Younger, Frances Jenner, Daniela Montalto
Workshop Venue: GalGael
Christy Mearns from the Glasgow City Council, who made it all possible, 
Our Volunteers and Allies
And our friends at Marmalade Skies, who gave us shelter and warmth, open-handed, kind-hearted.