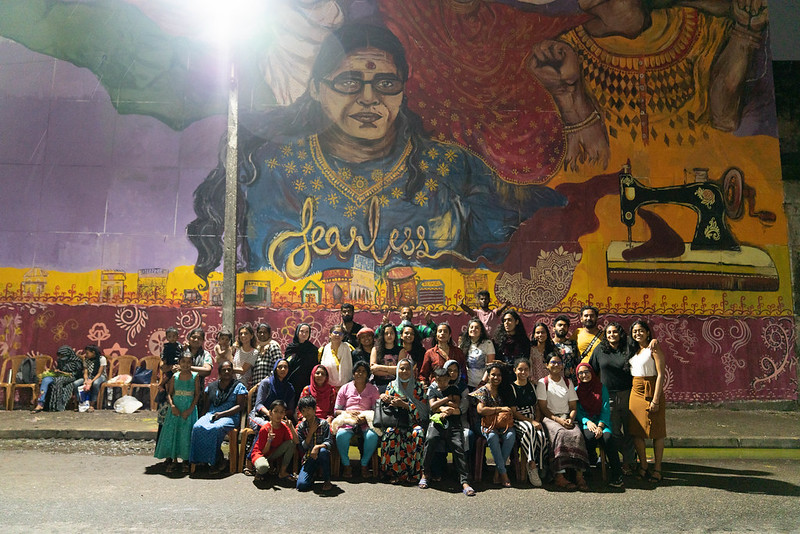 On the 27th of March we landed in Sri Lanka, a full two years and a whole pandemic after we were supposed to initially be there for the Fearless Residency. We were bringing together five incredible young artists from across South Asia to become the first group of Fearless Ambassadors. During the course of this residency the artists would be trained in the Fearless methodology, mentored by Shilo and be equipped to take movement forward in their own home countries.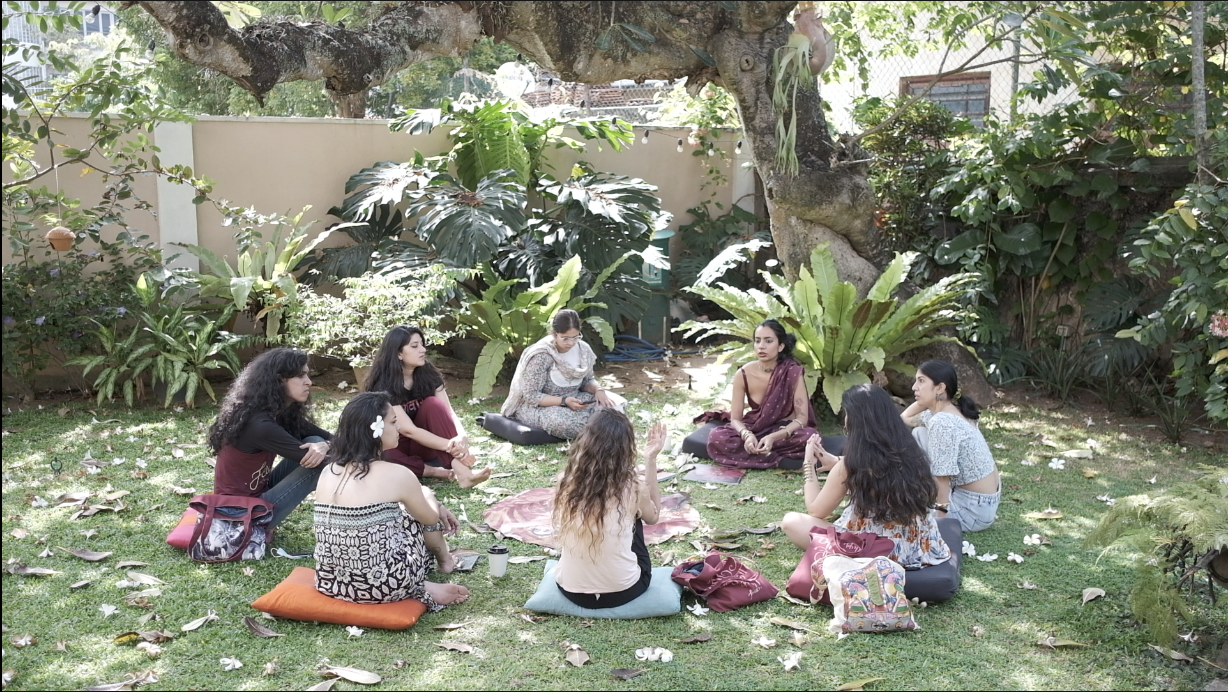 We spent the first day sitting around a large borderless map of South Asia. We took turns, and each woman stepped into the map and spoke of her creation story, the land and the people she came from. We drew onto this map, mountain ranges, deltas and roots to represent home. It quickly became very evident that we all came from places that were very close to each other.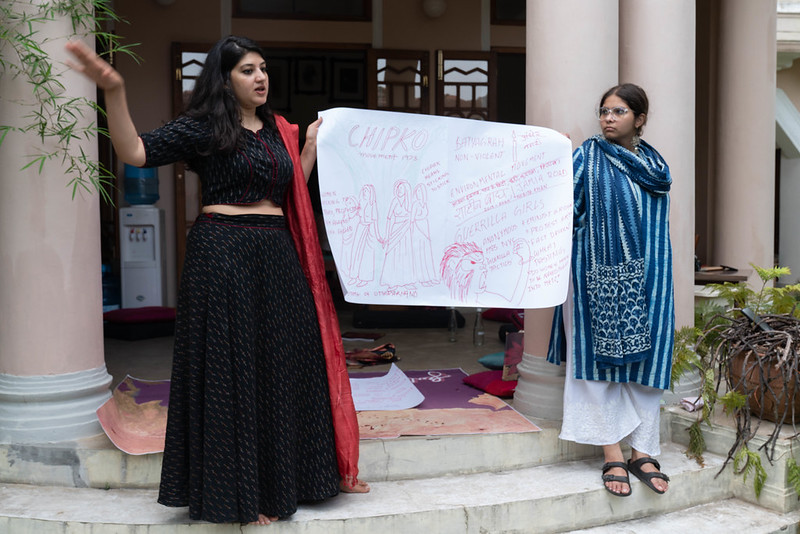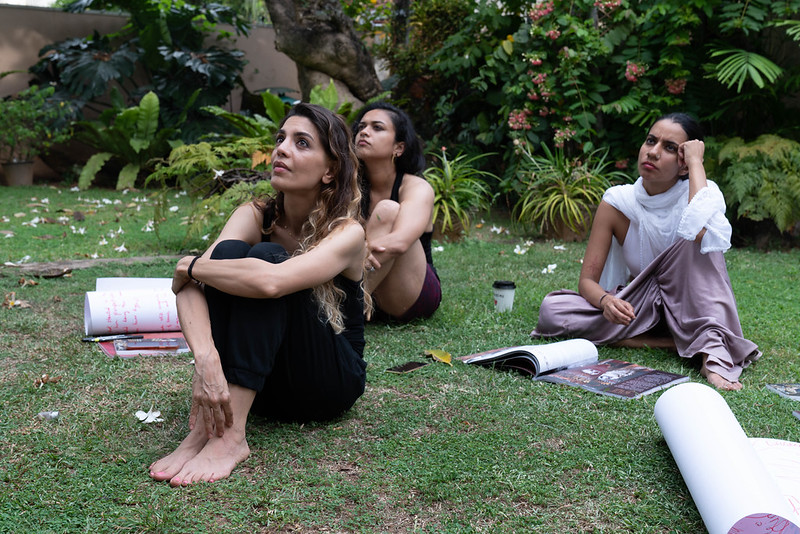 During our Fearless workshops we name a wound we carry as a way of acknowledging our pain and that cracks do exist in our stories. Our second morning together we spent listening to each other speak about fears that exist in our countries today, drawing out their political histories and looking at how they've manifested in our current contexts. One thing that kept coming up was how similar our realities were and how little our countries knew about each other. After a very heavy morning looking at the wound we spent the afternoon telling each other about resistance movements from Bangladesh, Pakistan, India and Sri Lanka. At this point moving from pain to catharsis, acknowledging how we stand on the shoulders of the women and movements that came before us –  Lala Rukh, Chipko Movement, Rage against Rape, Guerilla Girls, Qandeel Baloch, Women Action Forum. Giants.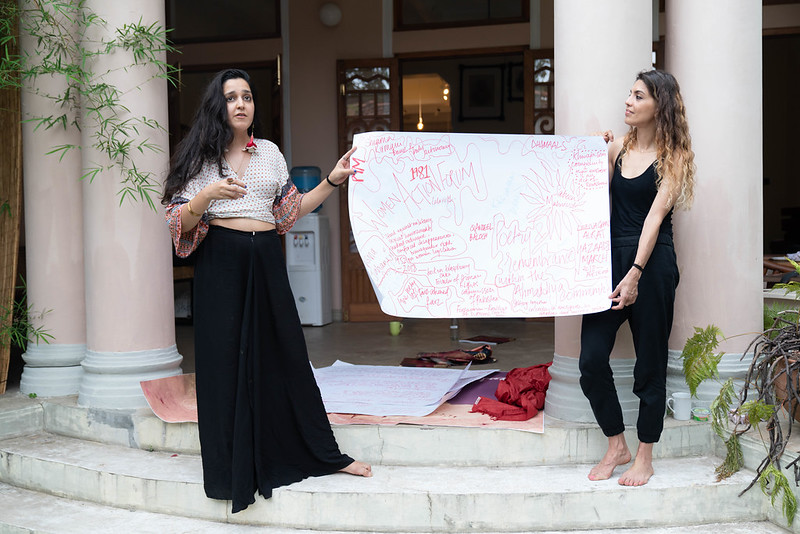 It felt particularly relevant sharing the histories of resistance movements while we were in Sri Lanka at such a critical time in the country's history – a complete economic collapse. In the time that we were there we saw large, peaceful, citizen protests grow across Colombo calling for accountability from the Government. 
On the third day we got into the story of Fearless, how it formed and what it has become today. We spoke about the methodology and the thinking behind how we use public, participative art that speaks to the idea of self-representation and reclamation. We engage with communities that have been under-represented or misrepresented in mainstream narratives through immersive story-telling workshops. We took the Ambassadors through our process of designing and facilitating these workshops, sharing our learnings from the multiple contexts we've worked in. With no time to waste, and diving straight into the deep, the residents were split into two groups and started working on the plan for the workshops they would be leading with a local Sri Lankan community partner.
Gargi and Maham were collaborating with the Sisterhood Initiative who work towards creating safe spaces for Muslim women in Sri Lanka to come together and share experiences, engage in curated discussions and find a sense of community among each other. At their workshop they spoke about what it means to be a Muslim woman in Sri Lanka today, each woman spoke about her relationship with faith and what it's like to hold faith in a patriarchal and divisive society where womens bodies are policied. Through the two workshop questions that were posed:
I feel alone when:
I don't feel heard
I am disrespected
I'm told that I can't do something
I'm told that I'm too religious also when I'm told I'm not religious enough
In exhaustion
We come together if:
Majority communities are organised and collective in making room, creating opportunity
Men give women space
People with privilege informed themselves better – to create awareness and kindness
If we respect each others thinking
The majority in places step up, especially when it's hard for them to do so
We teach our children not to shun others
Every woman shared their collective relationship with other communities and the different forms of allyship they wished existed.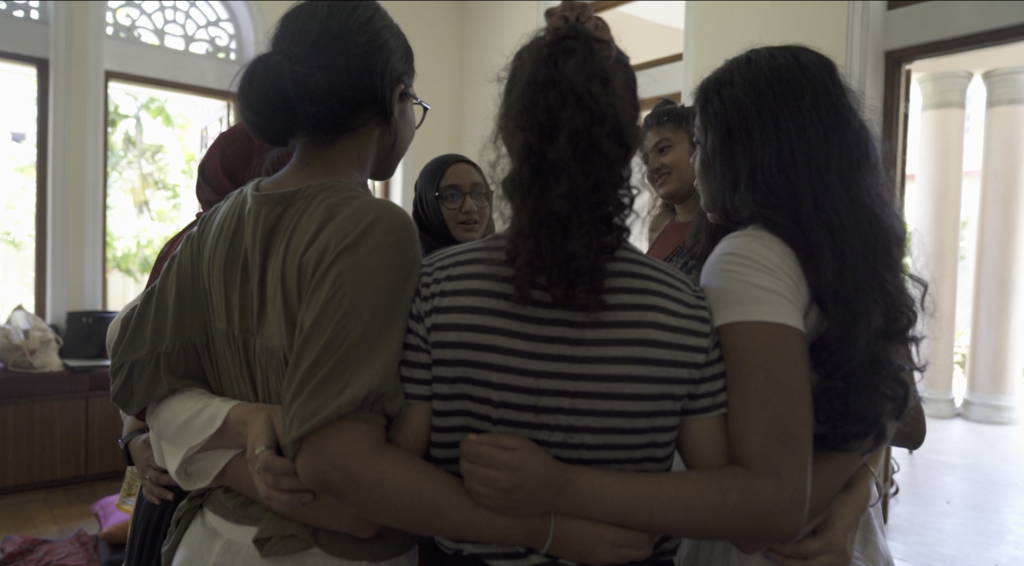 Leena, Dibarah and Vicky colaborated with the We Are From Here Project which is an artist collective from Slave Island, Colombo. Through murals and artistic interventions in Slave Island, they highlight community stories as way to challenge misconceptions about the area. The neighbourhood, as it's name suggests is where slaves were housed during the colonial era and post-independance, became residence to immigrant labourers. However over time the neighborhood fell prey to a negative image of being dangerous. With rapid urbanisation the landscape around Slave Island grew into skyscrapers and the business district of the capital. Which lead to efforts of gentrification and displacement of the communities that have lived there for generations. Along with We Are From Here – our Ambassadors worked with a group of women who live in Slave Island and engaged with this idea of erasure. The questions they asked in their workshop were:
What have you lost?
Someone I love
A husband
My livlihood
What have you found?
My family
A sense of community 
A way to educate my children
A home
A Way forward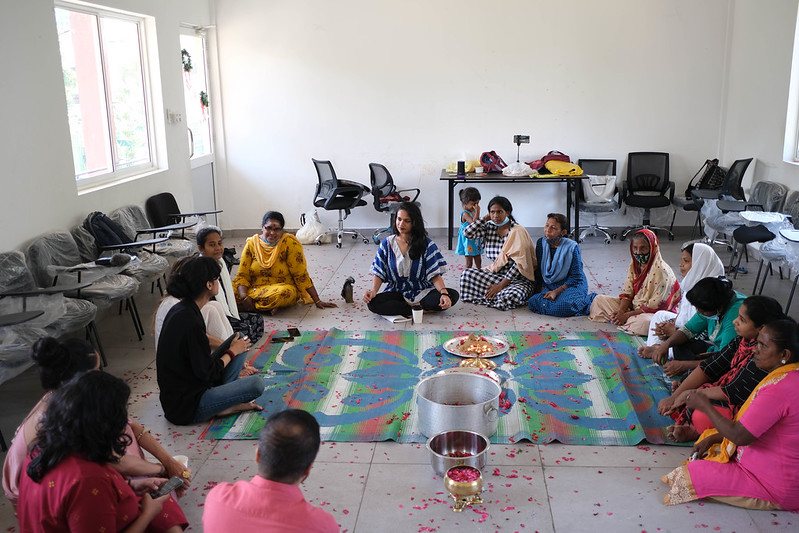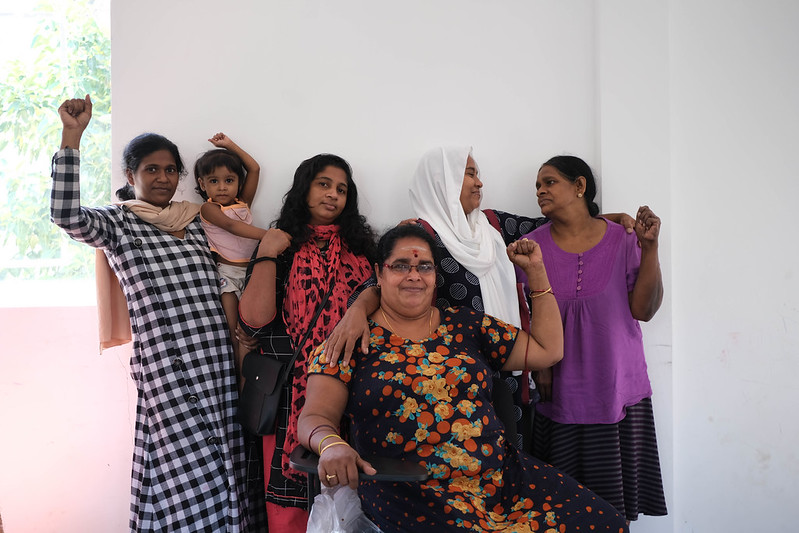 Through these interactions in the workshops, two powerful  images were composed with both communities choosing the way they wanted to be represented in the murals. And we spent the next week painting two murals simultaneously amidst a national emergency in Sri Lanka. Through rain, through the beating sun, a lockdown, power outs and fuel shortages. What emerged was an Indian and a Pakistani artist working together to create a powerful image of interfaith solidarity. An image  'rooted in the unique stories of resistance of a group of women who continue to create spaces, raise their voices, and hold up one another in the face of a deeply divisive environment. It is a reclamation of stories that have often been erased and villainized simply for existing. And a telling of those stories that celebrate their agency, their power and sisterhood.'
The Affirmation on this mural stands testament to this:
'Our roots entwine, we are divine.'
What emerged was a Bangladeshi, Sri Lankan and Pakistani creating a monument to thestrength, resilience and power of women who live in Slave Island. One that speaks to the generations of women who have come before and will come after, and how they are rooted to this land. 
Women play a huge role in this community, amid numerous challenges and hardships. This mural represents the roles they play everyday, fighting all kinds of stigma and breaking barriers, while celebrating their power as women.
The Affirmation on this wall declares 'I have found strength in myself and in the community.'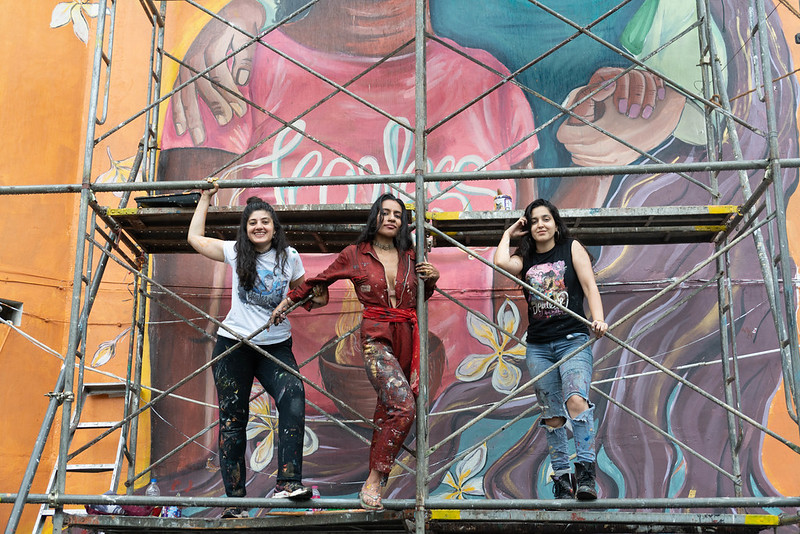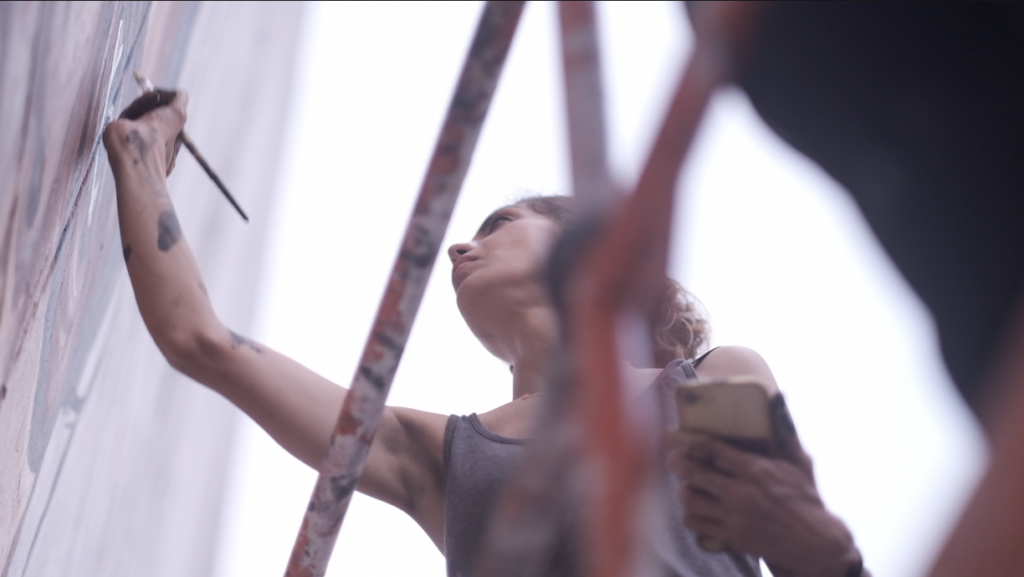 To draw a close to this magnificent convening across borders and as a way to honour the communities we worked with we held an iftar celebration at the base of the Rio Wall mural. Tables were set out, candles lit, flowers and decorations from the neighbourhood were gathered and we sat together at sunset, to break fast.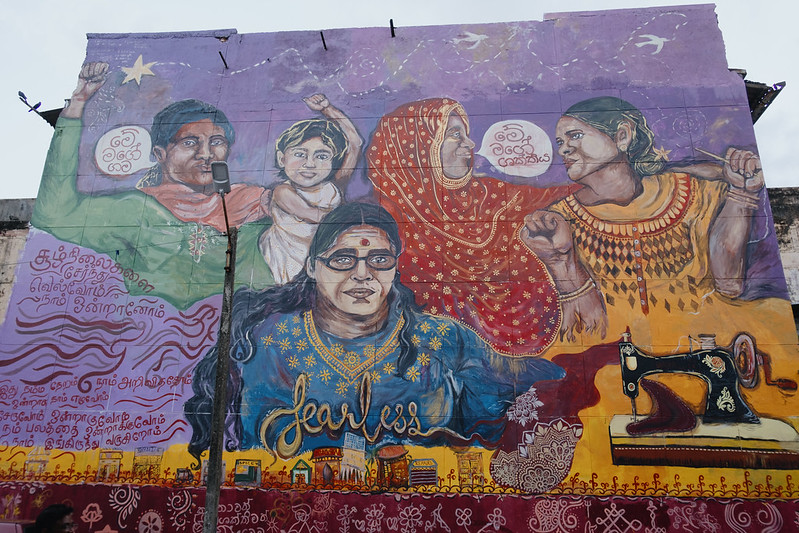 This residency has been years in the making, the seed for it being born nearly five years ago. With these residencies Shilo is passing on of years of knowledge and preciousness of a practice that has been pieced together intentionally over ten years of working with communities. The dream is for this work to become a Movement, across borders, where young women are able to make it their own and reclaim public spaces with the art they paint into these places.
Our next residency is due to happen in India, this July. We cannot wait! Stay tuned for more news on this.